Latest Designer Abaya Gowns Hijab Designs 2022-2023 Collection
Abaya is an Islamic dress which is worn by the Muslim ladies throughout the world. In Islamic culture, it is necessary for women to cover their bodies properly to hide their beauty. Only mehrams( blood relations) like a brother, sister, father and mother are allowed to see them. Muslim ladies wear abayas and gowns to cover their body and wear hijab to do parda. The trend of wearing Abayas and Hijabs are started from Arab countries like United Arab Emirates, Saudi Arabia and now scattered all over the world. It is most popular in South Asian Muslim countries like Pakistan, India, Dubai, Bangladesh, Saudi Arab and becoming popular in western countries also. In the start, abayas are so simple and mostly found in black color only but now it the time of fashion and glamour so the simplicity turns into elegance and trendiness. The markets are now full of designer made fashionable abayas and gowns with unique designs and diverse variety. They are in maxi style long gowns with chunnats, embroideries, motifs and adornments. They are available in black, off-white, blue, light pink, brown and so many such colours. More patterns contain amazing fish style gowns, long tale; umbrella-shaped, airline type, kaftan style and wide bottom abayas. Here we are sharing the Latest Designer Abaya Gowns Hijab Designs 2018-2019 Collection
Image Courtesy: AbayasBoutique.com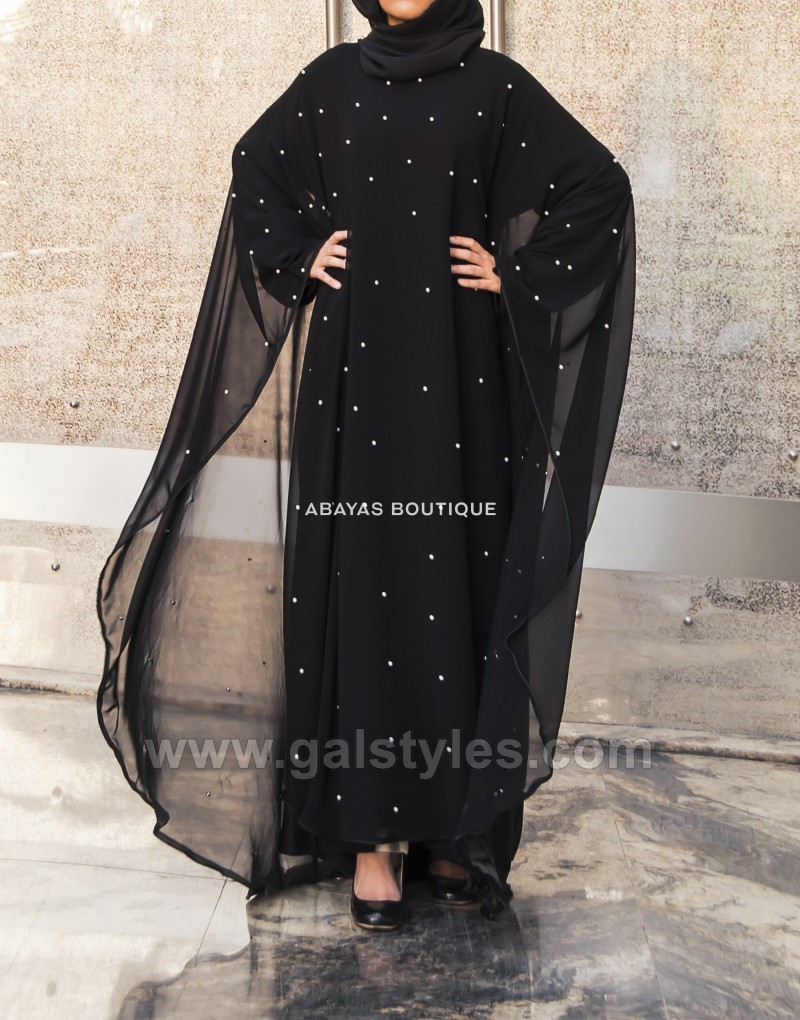 Latest Designer Abaya Gowns Hijab Designs 2022-2023 Collection
Latest Designer Abaya Gowns Hijab Designs Collection for women contains very innovative patterns of ladies digital printed, plane and embroidered gowns, maxi dresses and abayaas with matching hijabs. The assortment also contains most popular Arabic style butterfly abaya designs for stylish girls.The stuff used is of cotton, chiffon, silk and polyester. Now a day's jersey stuff is very used to design women attires. All these articles are created by UAE designers like roselle, Anaya, etc. These are available at online stores like Markavip.
The collection contains casual and formal wear abayas for women in different sizes and prints. They are ready made and well stitched with the use of alluring extensions like borders made up of velvet stuff. They have V shape necklines; some are round and embroidered. Some patterns have belts that give the modern and chic look. Now pick up your favorite piece and get stylish by wearing the trendy abayas from our latest collection. Have a look at the image gallery posted below and get inspired!
Nowadays butterfly gowns are very much in demand. As they compete for the style as well cover the body properly. Pearls, laces, crystals are added to enhance the formal look. You can wear them for formal functions and events. While for college going girls, simple plain abayas are best. The front open style is also getting famous day by day. Middle slit gowns with patchwork and embroideries are also seen in designers collection. Pleated abaya adds beauty to the whole appearance. If there is such a cold weather then you can also for the knee coat or long coat abaya in winters. Colors like baby pink, maroon, off-white, brown, beige, purple, etc are seen. While black is the king color for them, In summers printed abaya collection also comes. Floral printed abaya, digital printed abaya and block printed can also be the best option.
See More As:
Maria B Bridal Dresses Collection for Wedding Brides
Latest Hijab Designs Collection  Styles Tutorial with Pictures
Latest Indian & Pakistani Angrakha Style Dresses & Frocks Collection