Amir Liaqaut Hussain Summer Lawn Aanchal Collection 2019 by Amna Ismail
Amir Liaquat initially famous as religious scholar then turned into news anchor and the host has now entered the magic world of Pakistani fashion clothing. As the sophistication and people's attention towards clothing is increasing day by day, so we see many new fashion designers entering in this vast field to entertain the fashion lovers. Recently we have been talking about various designers launching various summer collections and now Amir Liaquat Hussain (I think he got impressed by the designers) so after men clothing he stepped towards women clothing. Amir Liaqat Hussain has recently launched his summer lawn collection 2015 for women with the label of "Anchal" with the collaboration of Amna Ismail.
Amna Ismail itself a big designer name has recently launched her separate summer collection and now Amir Liaquat Husain is lucky to have such a brilliant designer of Pakistan. In a past few years, the lady has grabbed her feet in the fashion industry of Pakistan providing with unique casual wear, formal wear and other seasonal wear.
Amir Liaquat Hussain Summer Lawn Designs Aanchal Collection 2015-2016 by Amna Ismail
This dress series is an amazing backing in the market by Amir Liaqat Hussain as it is an exclusive fresh embroidered lawn presentation that is watchful. This collection is full of elegant embroideries and prints. As summer in Pakistan is not so kind and is extremely hot, so sometimes it becomes so difficult for women to stay formal and party girls for long that is why they need something comfortable and stylish at the same time to look fresh and charming. That is the reason this collection consists of embroidered shirt. Embroideries will give a fancy look to your dress while the soft high-quality lawn fabrics will help you stay cool.
This collection is a combination of many pretty and glamorous colors like green, blue, pink, yellow, red, white, skin, black, purple and many more. It consists of 4 piece suits, including shirt front embroidered and printed piece, separate shirt back printed piece, printed chiffon dupatta and dyed shalwar. An extensive range of vibrant prints and summer hues is presented by the designer in this assortment. These dresses are best to wear casually or formally with the guarantee of long lasting fabrics. This collection is no doubt going to win hearts of onlookers, so don't be late for a minute in grabbing your hands on this amazing summer collection Anchal by Amir Liaqat Hussain for the year of 2015. Just have a look on the image gallery posted below and get inspired by the latest lawn designs! Thank you.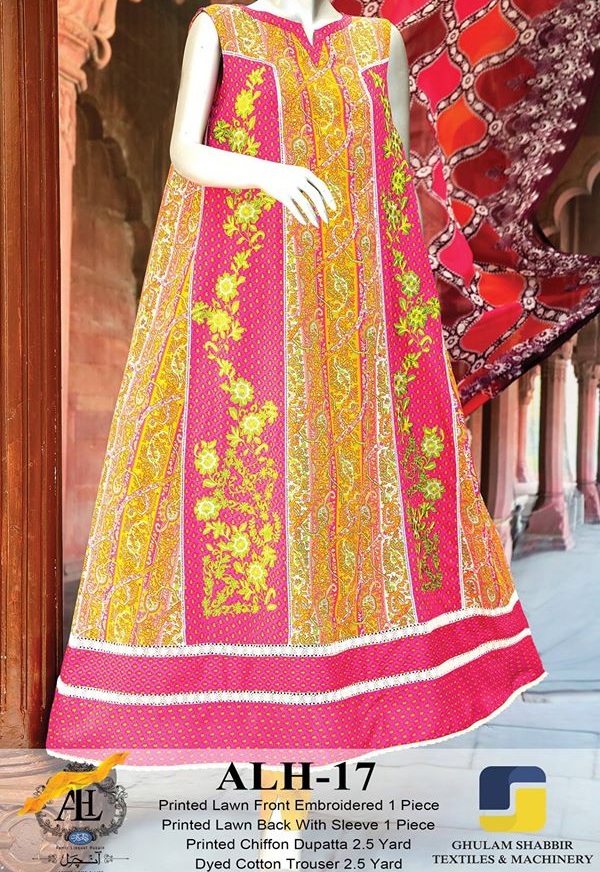 See More As;
Zainab Chottani Summer Lawn Dresses Collection 2015-2016
Nimsay Spring Summer Colorful Lawn Cotton Suits Designs for Girls 
Latest Kurti Dresses by Lala Textiles Summer Series 2015-2016