Amna Ismail Embroidered Lawn Summer Fancy Dresses Collection 2019
Amna Ismail is a new name in Pakistan fashion industry yet it is now included in one of the well-known top most brands of Pakistan. The talented designer is the expert in making classy and trendy designs with the use of superior quality fabrics. Till yet she has presented her seasonal collections containing a wide variety of designs just like this year. Yea, Amna Ismail has launched its embroidered lawn collection for the year of 2015 that is just another wonder of designs and trends.
The brand has been working in fashion field for last few years and have earned much fame in this short span of time among women. The main factor that attracts women other than stylish dresses is quality which is very well fully maintained by Amna Ismail and has won the hearts of the customers that is the reason behind its day by day increasing customer demand. Who does not want to enjoy sophistication and quality at the same time? Not only in Pakistan, Amna Ismail has grabbed her image among the people there in UAE, France, UK, Middle East, etc.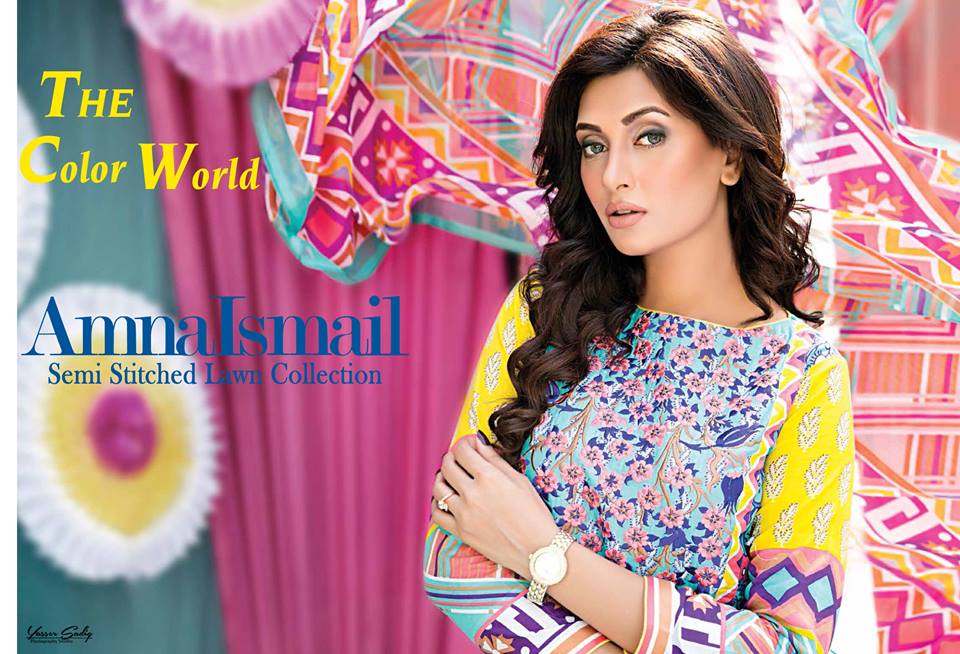 Amna Ismail New Embroidered Lawn Summer Fancy Dresses Collection for women 2015-2016
Another fascinating fact about the brand is that it always keeps the prices reasonable mostly starting from 2500 PKR and ranges according to the extent of designing. In summer season, ladies prefer to wear light and fresh colors, and we can see that designers have done a lot of effort in making unique color contrasts according to the choice of fashion lover ladies. Amna Ismail is one of them, who has depicted unique and innovative color contrasts & designs among her latest summer lawn collection 2015.
Like always, this collection is also a little different from other designers as well as less expensive. These semi stitched lawn suits are perfect to wear in the hot season of summer giving you a pleasant cool look. This collection consists of both stitched and unstitched suits. The reason why a part of this collection is a true combination of unstitched suits is that most of the women does not prefer to wear ready to wear dresses and want to get their dresses stitched their style and choice accordingly. Where stylish ready to wear, outfits are available for pretty girls who fit themselves in the shape of designer wears. The color scheme comprises of fresh colors like blue, green, yellow, pink, peach and many more. Furthermore, you can have a look at these beautiful prints via images. Have a look on the image gallery just posted below and get inspired by the latest lawn suits designs!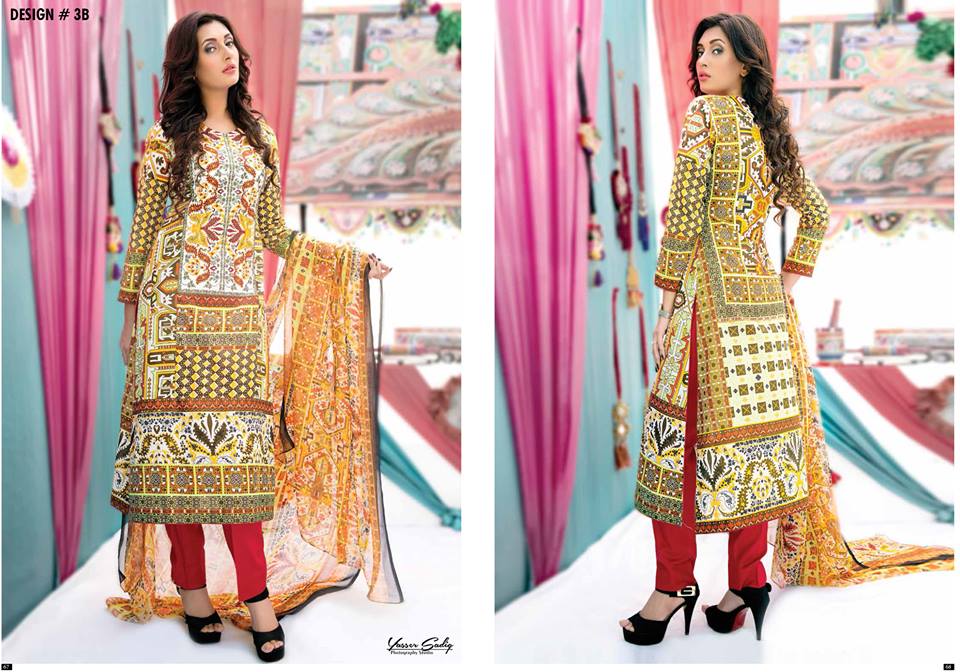 See More As:
Amir Liaquat Hussain Lawn Designs Summer Aanchal collection 2015 by Amna Ismail
Nimsay Colorful Spring Summer Casual & Party Lawn Dresses & Suits 2015-2016
Fancy Embroidered Summer Kurtis by Lala Textiles Lawn Collection 2015