Latest Kids Wear Dress Designs by Breakout Winter Collection 2019
Sometimes while talking about adults we forget about kid's fashion. Isn't it so unfair? So today this website is going to discuss kids also fashion. No offense but we usually get more attracted towards the kids wearing smart outfits I mean kids dressing also leaves an impression on us, as we sometimes judge the choice of their parents and appreciate the styles as compared to the ordinary dressed kids of stylish parents. There are various brands in Pakistan serving kids community with gorgeous outfits like Mother care, Baby care, etc. Where some brands provides dresses for both kids and adults. One of those brands is Breakout, a western garments house serving in the field of fashion from the year of 2010.
The brand offers casual and party wear dresses for men, women, and kids. It is one of the famous and leading brands of Pakistan who has gained huge success in a very short period. Recently the brand has released collections for kids and has got very good response from customers. Kids Breakout has released its winter collection for kids decorated with high modernity. Kids Breakout is a label by Breakout itself just a little specified for kids. We have seen many collections by Kids Breakout, but this collection is unbeatable.

Latest Kids Dresses designs 2015 by Breakout Winter Collection 2014-2015
This winter, make your kids stylish by this amazing collection for them. At last kids do have a right to look stylish as their parents and other people. The collection consists of western dresses adorned with modernity and high ends. Kids Breakout winter collection 2014-15 is simple but perfectly stylish for kids to wear casually or at formal events. The charming and bright colors usually attract kids that are another feature available in this collection. Colors like red, blue, and black, green, purple and the pink color mostly liked by little girls is used in these dresses to make it more influencing towards kids. These outfits are available at Breakout stores. Amazing sweaters, shirts, cardigans and cute mufflers are available in this collection paired with jeans for boys and leggings for girls, other than this coats and jackets are also provided for sophisticated small angels. So kids, it's time for you to enjoy your little fashion world and say thanks to those big uncles and gorgeous fashion designer aunties who never forget you in their fashion career.
Well, had enough gossip kids now watch these dresses of Breakout winter collection for kids 2014-15 and ask your mommy to buy you these awesome cute dresses.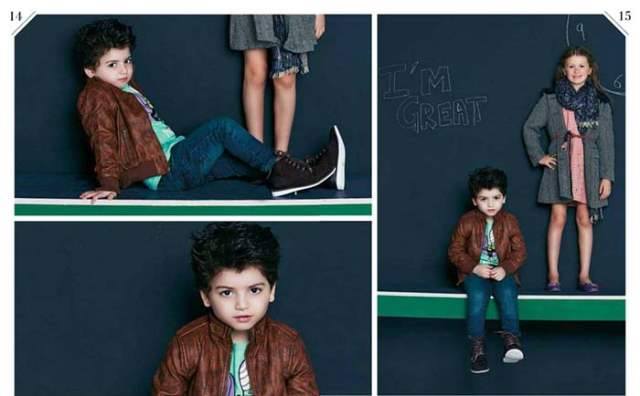 See More As:
Outfitters Winter Fall Dresses Collection for Boys & Girls 2014-15
Zeniya Lawn By Deepak Perwani Winter Shawl collection 2015
Bonanza Western Wear Dresses for Boys & Girls 2015-16