New Digital Printed Kurtis & Suits Designs 2019 Collection
Winter! Now you are brutal but no matter what most of us love winter.  As its getting colder day by day so everyone is arranging warmer things than before like clothing, hot cousins, bone fires with friends and family, etc. In fashion field, many fashion designers have introduced their latest winter collections till yet, and some are just on their way to launch even more winter dresses. We have noticed that from the year of 2012, the trend of wearing shawls have become so in. Today shawl is fetching an important piece of fashion even the young fashionable girls are used to wear stylish trendy shawls on their modern jeans, printed kurtis, shirt dresses where a shawl with a matching contrast with the dress is nothing much but perfection. Since, the trend of shawls is introduced by designers, many designers have launched collections following this trend and are widely appreciated among women. Shirin Hassan is also one of them who has brought an exhilarating series of winter shawls and dress collection for women.
Shirin Hassan is not a new name for us, and this fashion designer has a great fan following all around the globe. She has launched her many seasonal collections for women who are loved by fashion lover women. The product lines of Shirin Hassan brand mainly includes casual wear, party wear, evening wear, and formal wear.  This year Shirin Hassan has already unveiled two of her mesmerizing winter collections, now she is back again with very rich and stylish range winter digital printed suits and kurtis collection which is promising ultra-style and awe aspect with its amazing, bright, eye popping 3-piece dresses.
Shirin Hassan Latest winter Dresses Collection Trendy Digital Printed Kurtis & Shirts Designs 2016-2017
This collection consists of warm winter digital printed suits with kurtis and matching tights which are filled with various hues, moreover these dresses are ornamented with fancy embroideries which gives the dress a perfect formal wear look, where you can also wear these dresses casually. The dresses are full of comfort and trendy, stylized in different designs, patterns and cuts.
This winter collection by Shirin Hassan contains short shirts stitched in different patterns like some are simple short shirts where other are in poncho style paired with tights and pants where long shirts are also provided for the girls who like to wear long shirts. Other than shirts and tights, this collection consists of amazing shawls, some with contrast to the dresses and other single pieces are also available. The floral prints on these shawls and the color texture used by Shirin Hassan for these shawls is breathtaking. This collection has left no boundaries of elegance.
Hope you will like this exclusive digital printed and plane dresses designs collection by Shirin Hassan. Have a look on the beautiful image galley posted below and get inspired by the New Dress Designs of 2016.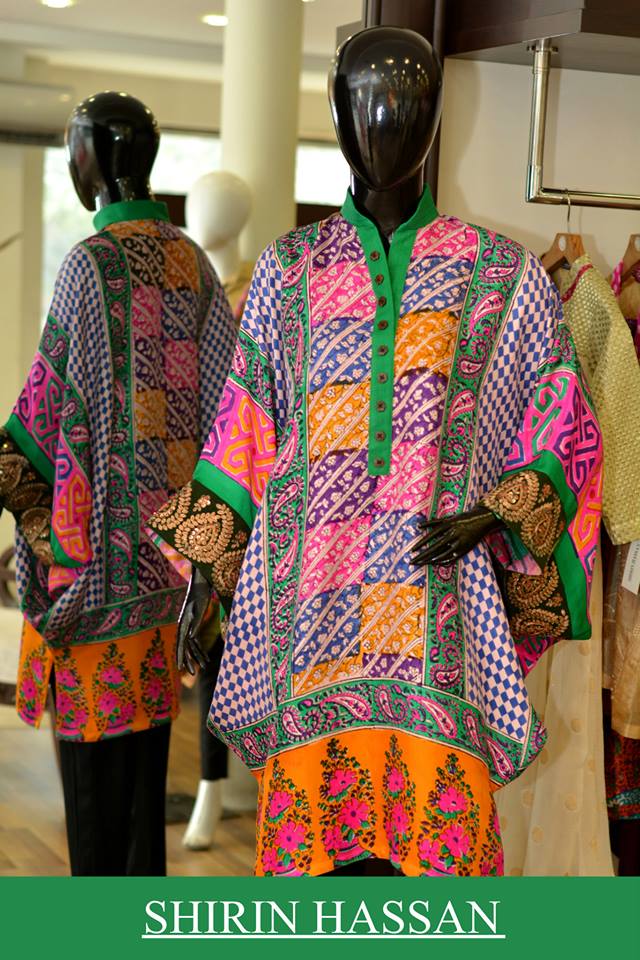 See More As:
Zeniya Lawn By Deepak Perwani Winter Shawl Collection 
Ego Stylish Kurta & Shirts Designs Winter Fall collection 
Breakout Kids Latest Dress Designs & Styles Winter Fall 
Origins winter Shawl Ready To wear dresses