Origins Winter Shawl Collection Trendy Ready to Wear Dresses for Girls 2019
Winter shawl trend is becoming so famous among fashion lover women. Initially, we all have seen this trend of 'chaadar' in desi cultures where men and women are used to wearing it in their manners. But these days, we see modern girls and boys adopting this trend with girls wearing shawls and boys with their specific style 'chaadar'. Anyways taking forward the topic of trend of shawls among women we will make the discussion here today. As the season of winter has arrived, so many designers are launching their winter collections, newer and newer. In some of the collections of 3-piece suits, a trend of shawl with shalwar and shirt piece maintained a dominant position. This year Origin also has presented something different, the collection of ready to wear dresses along with gorgeous shawls.
Origins Latest Winter Shawl Collection Ready To Wear Trendy Dresses for Women 2015-2016
Origin is a very well-known fashion label of Pakistan, which is dealing mostly with garments and clothes. The brand was introduced in the year of 2010 and in a very short patch of time they have got success and huge response from the customers. The product line includes kid's wear, men and exclusive women ready to wear collection. The dresses contain beautiful, bright, fresh and delightful prints along with electrifying color combinations like royal blue, yellow-green, purple, white, grey and many more. The collection consists of beautifully designed trendy shirts paired with tights or leggings or pants and a shawl or winter scarf. The whole idea of these dresses with a combination of trendy shirts, tights that is loved by modern girls these days and a shawl gives a complete, perfect look depicting both the traditional and sophistication.
These Ready to wear dresses by Origins 2015 are best suitable for party wears. All the dresses are a combination of style and traditions. Mostly short shirts are included in this ready to wear collection by Origins with the floral prints on shawls and embroidery prints on neckline that gives it a perfect casual look. This collection is made just according to the choice of young girls who love to look unique and gorgeous by wearing different and amazing dresses. Check these designs out of Origins winter shawls  ready to wear dresses 2015 and decide which dress you are going to buy before it's late, as this collection is now available in all stores of Origins in various cities of Pakistan. Just have a look on the below posted image gallery and get inspired by the latest winter designs and patterns of the season. Go style your wardrobes and make your evenings more special!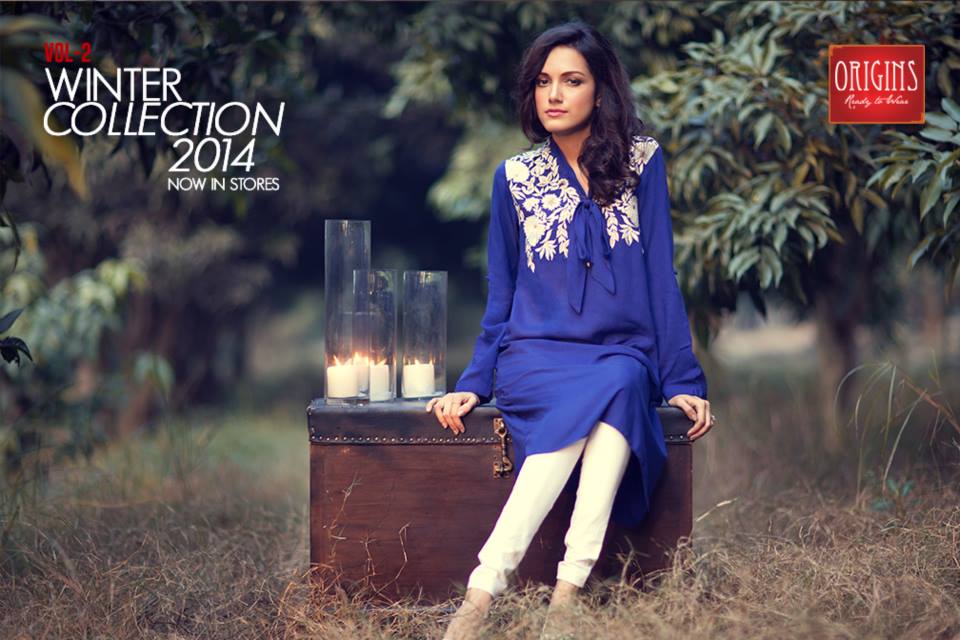 See More As:
 Orient Textiles latest winter fall collection 2014-2015
Sana Safinaz Designer Winter Shawl dresses Collection 2014-2015
Zeniya Lawn By Deepak Perwani Winter Shawl Collection 2015