Ego Fall Winter Collection Stylish Dresses for Women 2019
These days when fashion world is touching the heights of sky approximately all the brands are trying to get more advanced in the field of fashion than other. Various brands are launching their dress collections each day, previously there was a rush of summer and mid season collections where winter is in the air these days. Where other designers are busy in presenting their winter collections, Ego is a name that can never be forgotten in the fashion field. Ego is one of the top famous brands of Pakistan which is always known for its unique and stunning collections, the reason why women has always chose ego is that this brand always promises high superior quality for its customers. The fabrics used for dresses always own high quality where the designs of dresses themselves depicts high-class fashion and styles. Ego designs are especially famous among young girls and teens who love to wear stylish shirts by ego with trendy tights and pants.
2014 is just going to end, at the end of this year, Ego has launched its winter collection for women with amazing designs and cuts. In this collection, there are ready to wear trendy dresses that seemed inspired from the modern traditions and designs. Do you need some ready to wear winter dresses? No need to worry now because Ego is providing you as per your demand. I remember when Ego was first created in the year of 2006, from then till now every collection has depicted something new and unique from other designers. Ego has been producing and selling readymade dresses from years that are best suitable for formal wear mostly.The dress assortment comprises of Stylish Kurtas with modern cuts and unique patterns. The Mesmerizing shirts with a touch from western culture like pockets, cuff buttons and cuts. The Long shrugs with cool styles will rock your winter. The Trendy Kurtis with small embroideries will look traditional with palazo pants and churridars now a days. The Medium length Kurta Shirts which is going to be a new fashion trend in 2015.
The outfits are designed with run-stitch imprints on front and back, some have a front pocket and a svelte band collar with a button patti. The shirts have prints featuring majestic gold motifs on the back and cuff, sleek angarka style dress with pleated shoulder panels and iconic sleeve embroidery. Mostly of the attires have capes with metallic dusk print all over it and smoking border details. The necklines are mostky ban shaped, V shaped and collar type. A trendy cowl neck kurti with comic-style and yoke patti embroidery on textured fabric is also included in this series.

Ego Fall Winter Collection 2015 of Trendy & Stylish Dresses for Girls
The dresses in this collection consist of different cuts and lengths. Some with short front end where longer back side of shirts, others with jacket styles on shirts. The color texture used for these dresses is way too impressive, almost all colors are used in these dresses like yellow, blue, pink, maroon, purple, green, orange, indigo, violet and many more. Combination of more than one and two colors is also used in designing these shirts that are of the best choice of young girls. One can wear these shirts on matching pajamas, pants or these days printed tights are so in trend.
Now if you are worried that how you are going to get these dresses than for your comfort the brand has opened its stores in different cities of Pakistan like Lahore Islamabad, Karachi, Sargodha etc and this collection is available in all Ego stores. Come and grab these stylish, trendy shirts Ego Fall winter women collection of trendy dresses 2014-15 before it's late. Obviously where you need style we are on duty to provide you with all the hot news of fashion, so here you go with designs in the collection 2014-15 by Ego for this winter.Have a look on the below posted image gallery and get inspired by the latest designer dress designs of the season!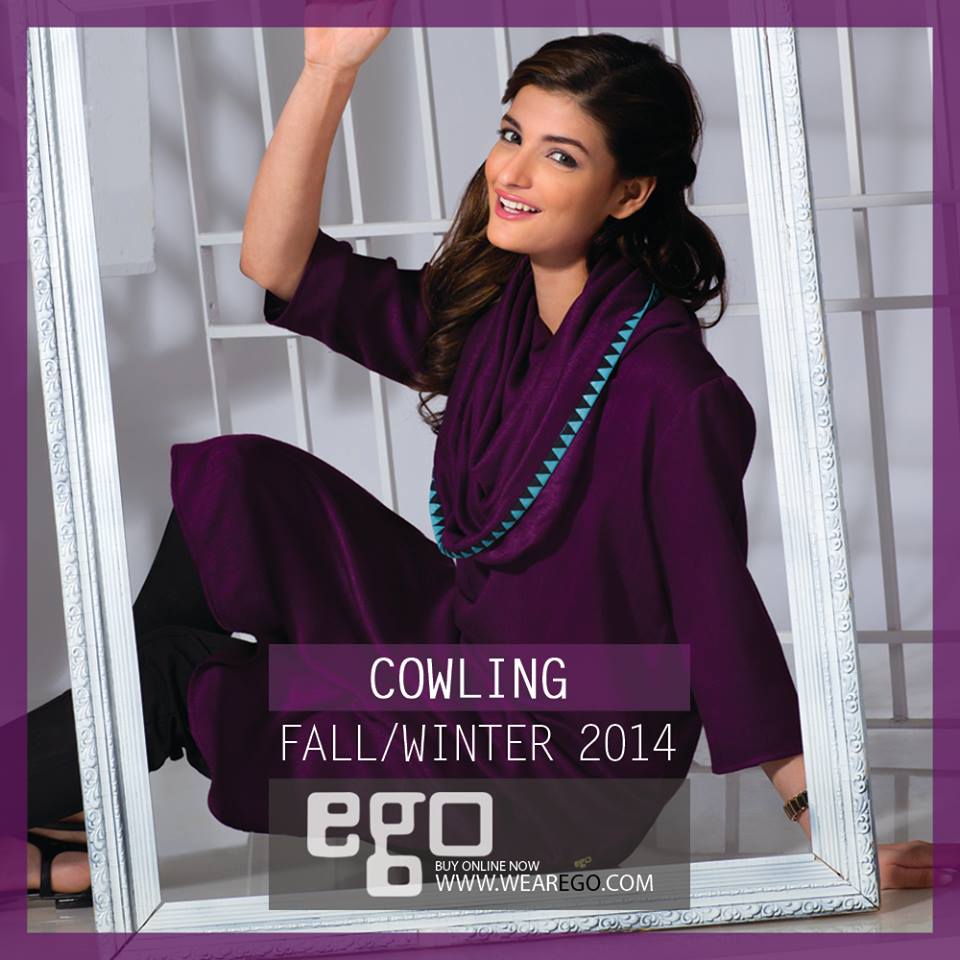 See More As:
Beautiful Kashmiri Shawls Designs Collection for Winter
Orient Textile Mills Fall/ winter Dress Collection 2014-2015
New Kurta Designs of 2015 by Change Kurta Collection