Gul Ahmed Lawn Chiffon Dresses Collection 2019 Catalogue
Gul Ahmed needs no introduction, Pakistan's leading
fashion brand working in the field of fashion since 1952 and is known as one
of the best brands of Asia. Gul Ahmed always assures people with high-quality fabrics and long lasting clothes. The brand provides with both men and women clothing including ready to wear and unstitched suits. Other than clothing, it also provides with accessories like towels, bed sheets, clutches, etc. These products are always liked by men and women, especially clothing. Gul Ahmed clothing range is full of sophistication and is by the time crossing high ends of modernity. It always provides with seasonal and occasional collections like summer, winter, Eid, Festival, Pret wear, casual, formal and party wear dress series. Recently Gul Ahmed launched its first volume 1 of the summer
collection, and now it has presented its second named volume 2.
Let's discuss
this collection, the designs of these dresses are quite elegant, impressive and stylish. With the passage of time, people are moving towards modernity and demands the products that will fulfill their needs of fashion. This collection is just a perfection for them. Various embroideries are made of the dresses in this collection keeping in view the need of event, either its casual or formal, different categories of dresses are available.
Gul Ahmed "The Original Lawn" Summer Lawn-Chiffon Dresses Collection 2015-2016
Now the prints, chunnri is once
again becoming popular among ladies because some things are evergreen you know. So this series
Volume 2 includes
chunri prints, floral and lining prints in amazing and fresh colors. I suggest everyone to wear fresh and bright colors as they seem to bring happiness and beauty to life.
As I already mentioned, these dresses are categorized according to their designing. More than 300 new
prints are revealed in this year lawn collection. Unstitched suits are available in a single shirt piece, two
piece consisting of trouser and shirt & complete
three piece lawn suits. Depending on measurements of fabrics, different price ranges are given. But as Gul Ahmed always takes care of customers, so prices are kept reasonable as compared to the designing and quality of fabrics starting
from 1800 PKR to 4500 PKR. No doubt, everyone is waiting eagerly for this collection. These new designs are so gorgeous to make your summer fresh and enhance your pretty. You know our main center of focus in summer is to look
fresh other than sophisticated, so these dresses are perfect like always. So girls and ladies, don't waste your time while sitting at homes and grab your hands on these beautiful dresses available at all outlets of Gul Ahmed before the stock gets over.
Embroidered Lawn Shirt
Lawn/ Cotton Digital Printed Dupatta
Plane/ Dyed Shalwar
Other one is "Embroidered Chiffon Dresses Collection" that includes:
Printed Shirt
Embroidered Neckline
Embroidered Sleeves, Printed Back/ Front.
Printed Chiffon Dupatta
Dyed Shalwar
 Just have a look
on the beautiful dresses posted below and get inspired by the latest
designs!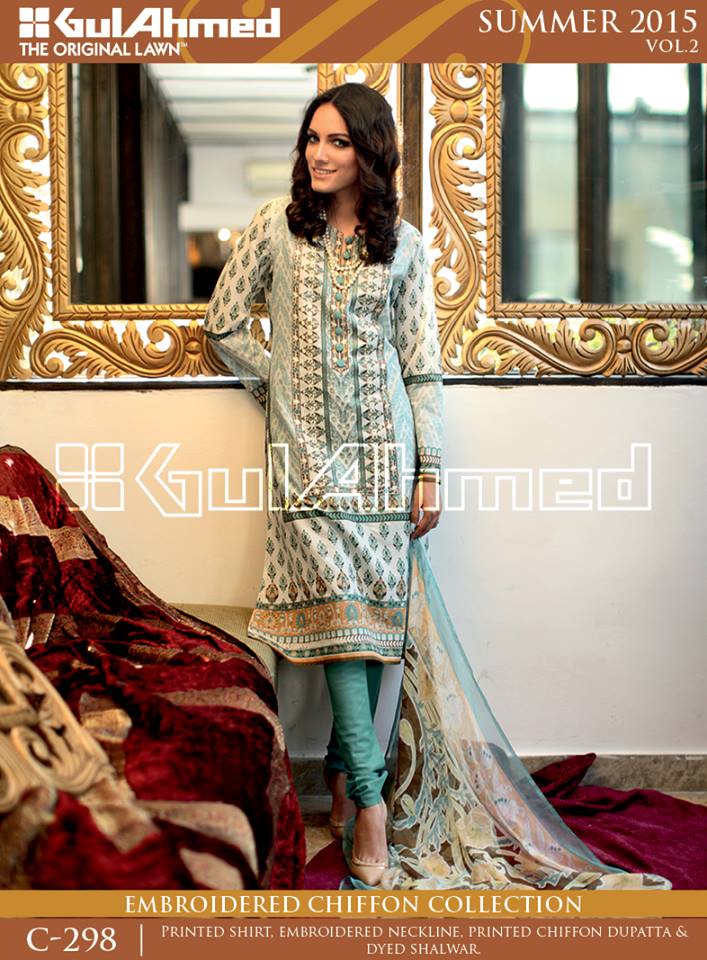 See More As:
SHEEP embroidered Kurtas/ Kurti Designs for Girls 2015
Amna Ismail Embroidered Lawn Dresses Catalogue 2015-2016
Amir Liaquat Lawn Summer Aanchal Collection 2015 by Amna Ismail