Rabea by Shariq Textile Trendy Linen Kurti Tunics Collection for Girls
Kurtis are considered as the tradition of South Asia from a long time. It is worn in different manners as by the time designers kept on introducing new trends and designs. Kurti pajama, kurti salwar, kurti pants, are the various kurti contrasts. Shariq textiles have always been providing us with amazing high-quality fabrics that are the reason Shariq textiles is considered as the most reliable textiles due to their fine fabrics quality.
Once again the amazing and unique kurti designs by shariq textiles are here to fascinate you, these designs are very eye catching and attractive for young ladies especially. This collection has been launched at multinational fashion house. As kurti tunics by rabea shariq textiles are extremely regular in ladies since ages that shows the quality wear and uniqueness of the brand.
If we come to define tunics as sometimes people get mix with it, then it is a long apart piece of clothing stretching out till the knees. But now as you know fashion walls have touched the sky, so some different styles and lengths in tunics have been introduced. The dress provides for you an outclass stylish & trendy look especially when wear with pants or palazzo pants. Young girls mostly prefer and like it that is the reason most of the designers are likely to give different tunics/kurta collections these days.
Rabea Best Kurtis Tunic Collection for Women 2014-2015 by Shariq Textiles
Recently Rabea by Shariq textiles launched its various Kurtis/tunics styles for the year of 2014-15 at the stage that was also including Sana Safinaz Silk Tunics and Junaid Jamshed Silk Tunics.
These dresses presented by Shariq textiles under the label of Rabea Kurti collection are amazingly unique and full of colours. Rabea, a mark by Shariq textiles is a standout among the highly praised and the best dress brands in Pakistan. The brand was first introduced in 2009 and after getting this rapid and huge success, the brand is currently known universally and well broadly.
Linen & Cotton Kurti-tunics collection Rabea by Shariq textiles 2015 is an exceptional kind of collection in the way that where women were so exhausted of same designs again and again, this collection has brought something new to them. This Kurti and tunics collection is brilliantly designed with ever best prints and colours. Each dress contains eye finding shades and holds a genuine female quintessence. These dresses are attractive enough to get snatched by the customers from the beginning. So, get ready to knock one's socks off, because after watching this collection you definitely can't resist buying some of them. For the ease of your eyes, we got some of the designs here from Kurti collection Rabea by Shariq textiles for the year 2014-15, hope you will like it.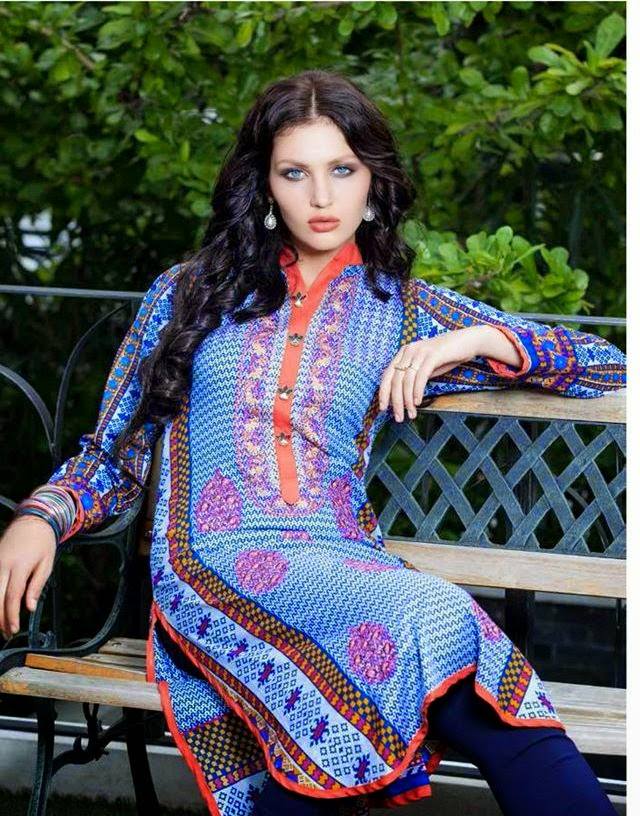 See More As:
Mausummery Winter Fall Cambric Dresses 2014-15 for women
Satrangi By Bonanza Cambric Lawn Winter Collection 2015 for Women
Nisha By Nishat Linen Stylish Women Winter Dresses 2015
Alkaram Glamorous Winter Collection for Women 2015