Lala Textiles Embroidered Lawn Dresses Kurtis Summer Collection 2019
Recently we have been talking about summer assortments by various brands but sometimes we ignore the hands working behind the brands. The superior quality fabrics and the high technology machines, they all are the work of textiles. There are few very famous textiles in Pakistan that launch their collections under their own label and are highly known and appreciated like Five star textiles, Shariq textile, lala textile etc. Like 5 star textiles, Lala textile has also earned huge success. Lala textiles was founded in 1972. Initially, before approximately 40 years from now it started its career as a trading company and still it is serving in fashion industry and is considered as highly demanded textile fabrics. Lala textiles is considered as the king of Pakistan fashion industry that has recently revealed its summer collection "Madham Embroidered lawn summer collection 2015" after the huge achievement if you guys remember Macramé lawn prints by Lala textiles. Lala has always launch new and stylish collections according to the latest styles and trends.
Lala Textiles Embroidered lawn Dresses Kurtis Summer Spring collection 2015-2016
Unlike all other collections, this collection gives a different theme. This collection depicts an inspiration by oriental flower riots. It is the first seasonal collection as Madham embroidered. The dresses have soft prints and fresh colors along with various designing according to the latest styles and trends. The collection includes beautiful lawn dresses, some with chiffon sleeves to give a chic touch for young girls. Not only for young girls, these dresses contains perfection for ladies of all ages from bright colors to decent shades, each dress is full of elegance and style. The dresses in Madham Embroidered by Lala Textiles are embellished with lovely eye catching prints where some are beautifully adorned at necklines to give the dress formal look. Both formal and informal categories are available in this dress line. Bright & bold colors along with delicate embroideries are perfect to add sophistication in your personality.
This collection is a chance for everyone to make her own fashion statement with these lovely lawn dresses and stay cool in this upcoming hot summer. This collection has reached high ends of modernity with amazing cuts and designs by Lala Textiles. I think it's time to give Lala a big thank you had because when you will see this collection by yourself, you won't believe your eyes. A few picture of dresses from Madham Embroidered by Lala textiles 2015 are uploaded here below as a trailer of the whole amazing collection. Mostly orange, blue, ferozi are used in these dresses to give the fresh look. Hope you will love this stunning collection. Have a look on the below posted image gallery and get inspired by the latest designs!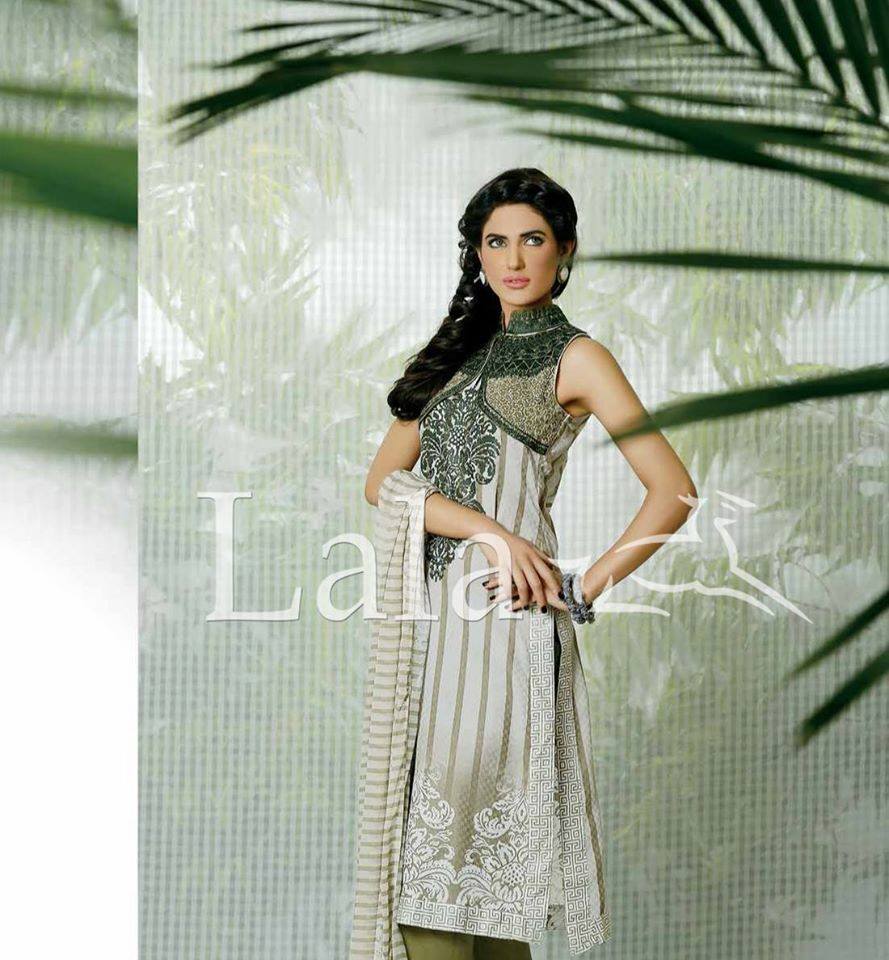 See More As:
Five Star Textiles Latest Digital Printed Summer Lawn Dresses 2015-2016
Zainab Chottani New Summer Cotton-Lawn Suits By LSM Textiles 2015
Mehdi Lawn Summer Lawn Dress Designs  2015 Series by Al Zohaib Textiles 
See More As: