Mausummery Fall Winter Dresses Collection 2019 for women
 Mausummery Pakistan's one of the top most and popular clothing brand who always offers something more exceptional. Its designs are too unique and prints are creative that really depicts the brand's level.  Mausummery always launches its seasonal assortments like Summer, Spring, Autumn ad occasional as Party wear, Formal Wear Eid Festive Collections. After getting huge success of women collections, it is now launching all new winter arrivals for the year of 2014-15. Fashion lover women prefer Mausummery because its high-end fashion and unique dresses. Recent collection by Mausummery was composed of written and digital prints stuff mostly like written front and back, sleeves and even written chiffon dupattas along with plain cloth pants. Such designs look so unique and attractive especially young girls wearing it give amazing different look.
Cambric cotton is known as one of the fine winter fabric to wear which was first introduced by French community; it is lightweight, easy to carry and warm at the same time. So, this winter Mausummery is introducing a high-quality cambric decorated with beautiful prints. The dresses in this collection themselves are depicting the high-end trends with the beautiful printed and embroidered necklines that give the dress both casual and formal look. Another fascinating fact about these shirts is the handmade dupatta shawls which are beautifully overstated by floral patterns and digital colouring methods.

Mausummery Latest Women Winter Dresses Fall Collection 2014-2015
Mausummery Winter Fall Collection 2014-2015 for Women consists of three piece dresses with printed and embroidered kameez, plain shalwar and shawl. These terribly elegant three piece suits with colourful shirts are highlighted by border neck and panel effects. Mausummery cambric winter collection 2014-15 has got the designs for formal and semi-formal wear because of the striking colours and appealed crafts. You can opt these styles for your winter season to bring extra glamour to your looks. These are best stitched Ready To Wear dresses containing lovely patterns and embroideries. The favour of this collection is that it includes smooth and comfortable wool khaddar shawls with delicate versions.These dresses are perfectly persuasive for soothing and charming effect especially the colour scheme is unique and attractive. Usually, these designs are more preferable by young girls.
The collection is now available in stores all over the Pakistan so don't get late to bind your shoes for going to shopping and enjoying this amazing collection.Here we go with the top designs by Mausummery for the year of 2014-15.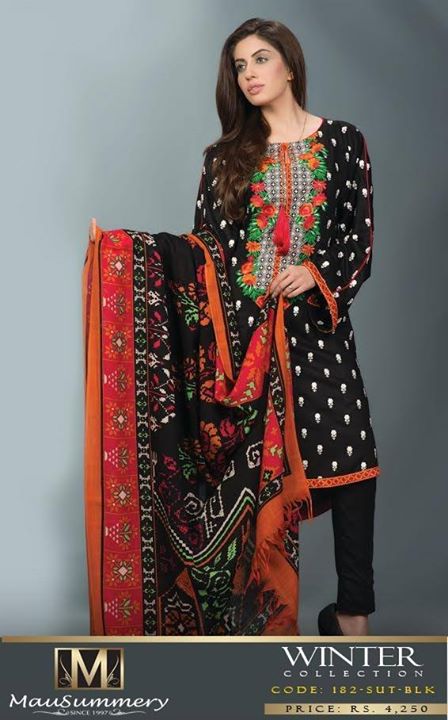 See More As:
Nishat Linen Trendy Winter Dresses Collection for Girls 2014-2015
Alkaram studio Glamorous Winter Fall Collection 2014-2015
Gul Ahmed Latest Winter Arrivals Best Women Outfits
Latest Designs of Women Long Shirts & Kurtas 2015