PFDC L'Oréal Paris Bridal Fashion Week 2018-2019 Latest Collections of Popular Pakistani Designers
Well guys, you all must have heard of PFDC- The Pakistan Fashion Design Council, which is one of the most anticipating and awaited events of Pakistan! The innovative and pioneering PFDC in association with the world's foremost beauty brand "L'Oréal Paris" disclosed the names of the fashion designers that took part, along with the details on their corporate synergies for PFDC L'Oréal Paris Bridal Fashion Week-2014-2015 (PLBW2014), that was held in Lahore from September,30 to October,2 (2014). This platform is set to depict and reveal the modern-day and the traditional Pakistani-Bridal-Fashion, hair-trends and makeup-styles, mingling to create the "look" for the 2014-2015 bridal season. All our renowned models took part in the event. PFDC is the first Pakistani brand that has extended in the Indian market with its name, with standalone multi label- retail store, which symbolizes Pakistani designers.
Until now, PFDC has revealed almost 40 fashion jewelry & bridal designers, in tandem with the prestigious makeup and styling artists each year.
The very first day of Bridal week started off with Pakistan's leading and legendary designer HSY, and was followed by another eminent name Saniya Maskatiya , accompanied by other pre-eminent designers like Saira Shakira, Karma Red, Zara Shahjahan, Asifa & Nabeel, Ammara Khan and many others. Day one's Makeup for women's wear was done by Maram & Aabroo , and Khawar Riaz for men's-wear, while Day-2 and Day-3's makeup for both women's wear and men's-wear was done by Nabila/NGENTS.
Famous Pakistani Designers Wedding Collections at PFDC LOreal Paris Bridal Couture Week Fashion Shows 2014-2015
1)    Nomi Ansari
The ultimate day of PFDC L'Oréal Paris Bridal Week was started up by the designer Nomi-Ansari who divulged his collection of bridal-wear "Gul". The whole compilation carried the magnificence and splendor of the past on it's detailed, elaborate and enduring pieces on pure material and stuff.  Yet fashionable and contemporary in the modern sense, with an elucidation and exposition of our cultural heritage. A salutation of style with a unique and extraordinary techniques of embroidery that revived our traditional trends, with vibrant colors.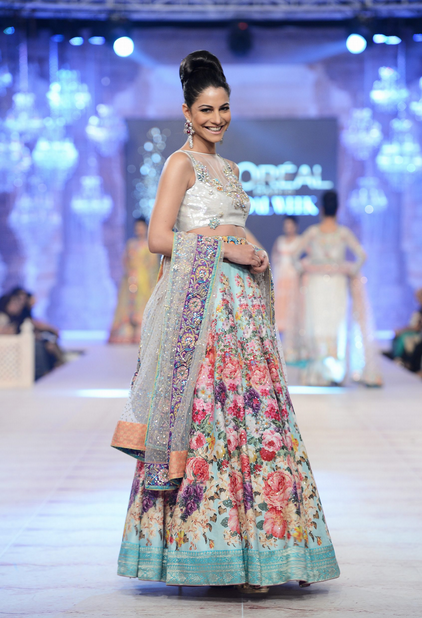 2)    Asifa & Nabeel
Asifa&Nabeel's collection named "Meena-Maniratna" enthused by the actual life of Meena Kumari. In the films of Meena-Kumari, the shades and the motifs of jewelry worn by her were the chief composition of the collection! The shades used were mainly gold, tangerine, harbour-grey and the bridal-assembly. This was a version of the classic epoch of the deluxe lifestyle of the stunning Meena-Kumari, with the traditional work of dabka, threads, stones, pearls and chandi-pati. These works are carried out on the pure materials of silk, organza, chiffon and jamawars with cuts and layering.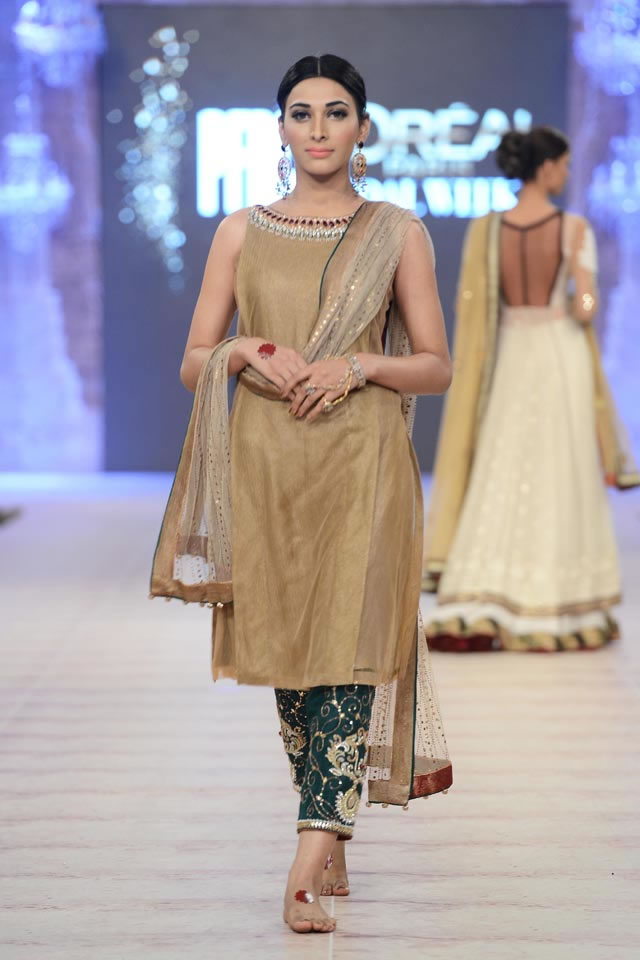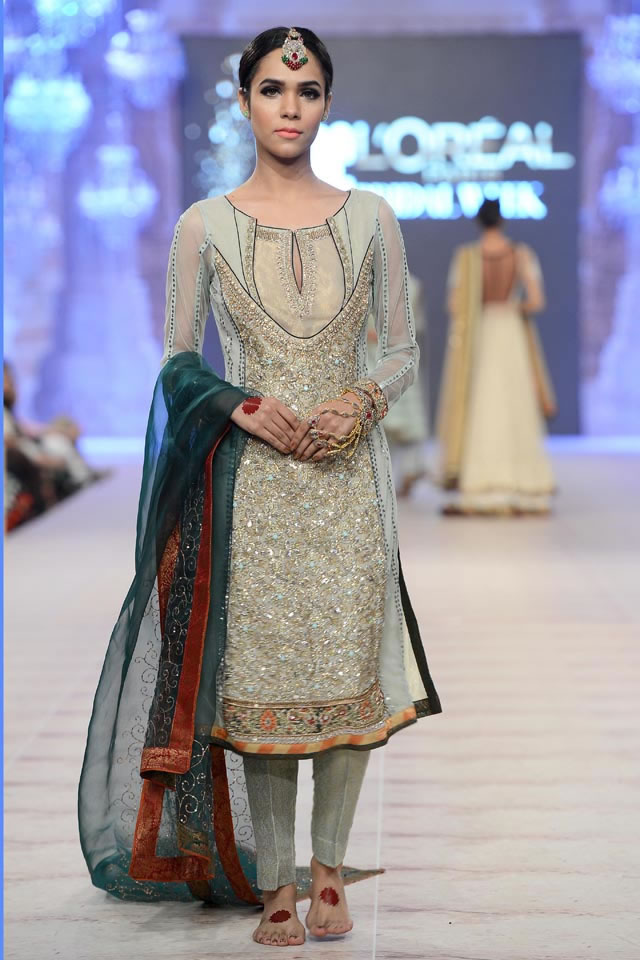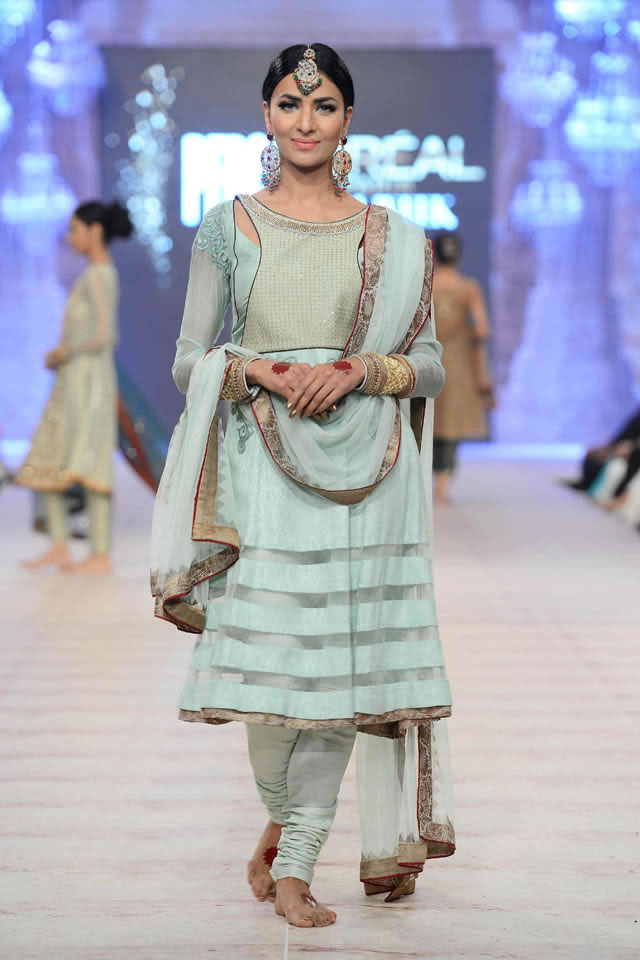 3)    Saira Shakeera
Followed by Asifa n' Nabeel, Saira-Shakeera's Bridal-Work was disclosed "A Midsummer Night's Dream", named after the famous work of Shakespear, as the duet deems that no other has represented love in all it's grandeur better than him! The designers tried out pure and delicate fabrics like laces and nets. The stuff further consisting of kaftans, lehngas, saris with the work of nakshi, dabka, beading & Swarovski-crystals with tones like pinks, plum purples, lilacs, blues.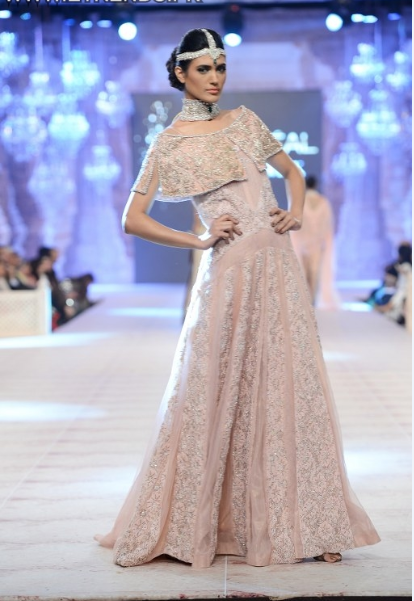 4)    Karma Red
Karma-Red, supervised by the design-director Maheen Kardar Ali, flaunted "The Lotus Raj Collection", inspired by the quintessence of sub-continent. The Lotus Raj Collection included five capsule assortments:
•    'Raj-Kumari': that sets the frame of mind as robust, alluring and wonderful.
•    'Uns': that gets inspired from the enchantment of flora, first love and vanilla sky of monsoons,
•    'Aatish': enthused by 'Thakuranis,' warrior queens, old-age valuable metals nd blazing fire-crackers.
•    'Saj-Dhaj': inspired-from the cultures, traditions and prettification of subcontinent.
•    'Raj': personified mania, passion, pure beauty & the carnival of coming full circle.
This label also show-cased children garments!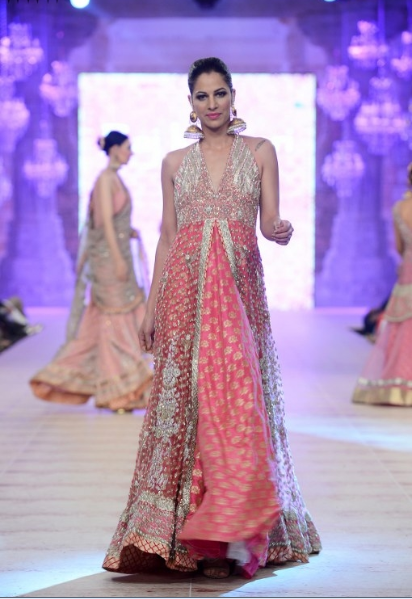 5)    Ammara Khan
The couture house "Ammara-Khan" placed their collection on the view by a title "The Winter Palace: A celebration of the Russian Tsarina". The omnibus is inspired by the sumptuous and magnificent life-styles of Russian Royalty. It composed of tapered long trousers, structured jackets, voluminous shirts, long-length gowns, stylish sarees and much more. Stuff included French laces, velvet, net, silk-brocades and organza. Ammara utilized old – age techniques of embroidery using threads of gold and silver using painstaking craftsman-ship, ornamented with crystals, glistening pearls and semi-precious stones. The palette of colors was stimulated by the celebratory colors of the ancient Winter-Palace, the uniforms and gowns of The Tsars and Tsarinas. That features appealing color tones such as silvers, gold, amber, soft-pastels, taupe, ivory and Prussian blues.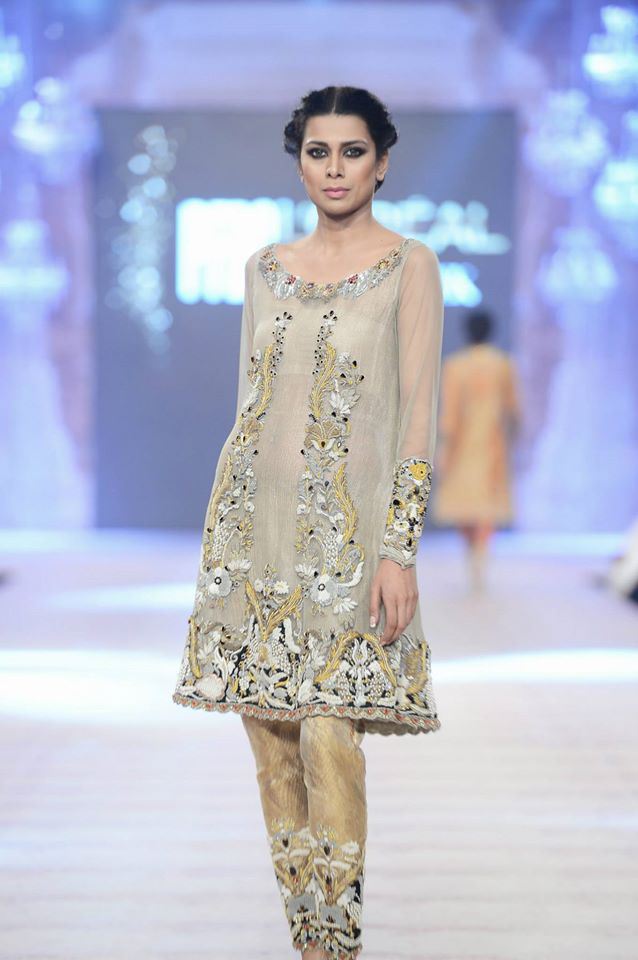 6)    Ali Xeeshan Theater Studio
The finale of Day-2 was demonstrated by Ali-Xeeshan-Theater-Studio, with a bridal-assembly of both men's wear, and women's wear labeled "Baghawat", inspired by the archaic civilization of Romans. This set attributed knee-length jackets with high-necks, and other beautiful attire made on the fabrics like French-velvet, French raw-silk and Shanghai, on pulsating shades that depicted fervor and revolt.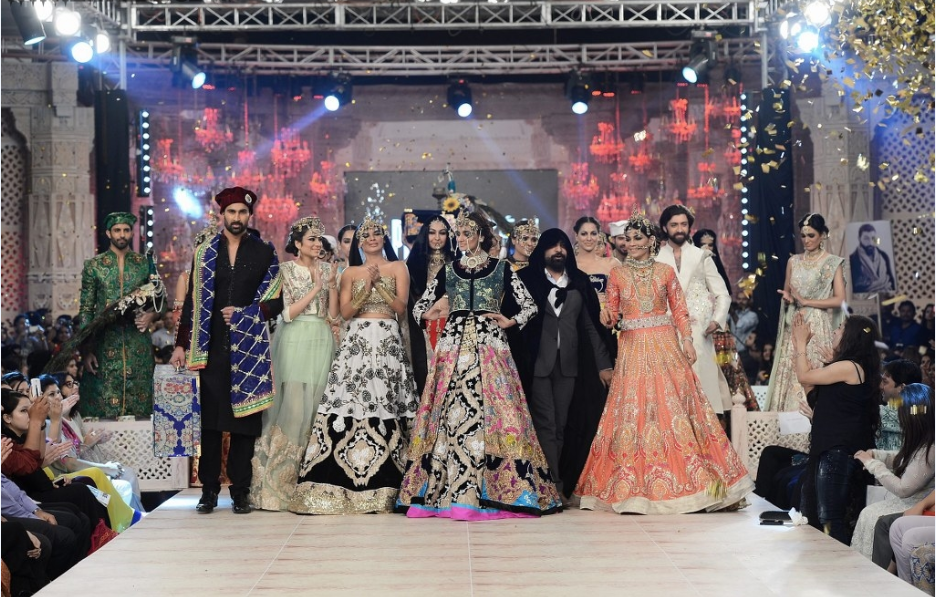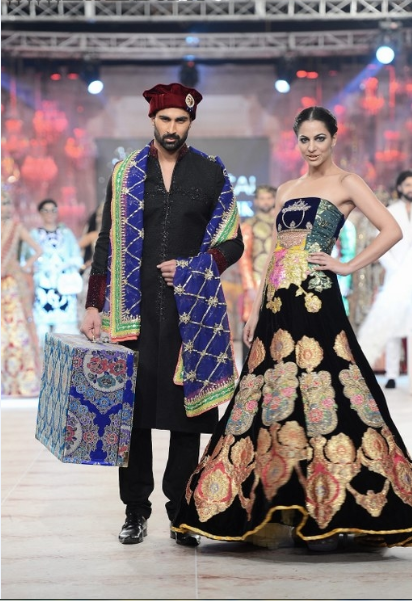 7)    Nida Azwer
Nida show-cased "The Ghalib Collection". The Ghalib Collection drew attention towards the spirituality and poetry of the celebrated and well-known poet: Mirza Ghalib. In this anthology, Nida used the shades and hues of teal, grey, navy blue, blue and some tones of blue on the fabrics like tissue, lame, net, silk and brocade. All in all, her collection comprised of saris, jackets, short shirts and farshi ghararas embellished with crystals, zardozi, cut-work and resham, harmonized with delicate resham embroidered shawls, chadders and stoles. A few men's wear pieces were also included!
8)    Misha Lakhani
The wedding-compilation of "Nowruz" was presented by Misha-Lakhani. 'Nowruz' rejoiced the old fashion romance! It was based on a diverse palette of shades on velvets, adorned with a diversity of methods like a cutwork, appliqué, embroidery, thread-work, etc. Misha-Lakhani's showcase incorporated the jewellery by Kiran Fine Jewellery.
9)    Nickie Nina
The "Rumi to Raj" collection presented by Nickie-Nina, at heart drew motivation from the princesses and the queens of the Mughal times! Each and every ensemble had been planned on a specific Mughal royal lady and featured all the characteristics of her personality into a single outfit! The details of embellishment, the cuts and the fabrics used, all revealed the label's construal of Raj Myth. The collection projected the lavishness and stateliness of the Mughal-Era. The designers used lux French lace, jamawars and lush organza with a blend of karchob,  zarkozi together with a smidge of Swarovski crystals and the colors used were mainly nudes, beige and off-whites boosted up with brilliant and bright hues.
See More As:
Nishat Linen Trendy Winter Dresses Collection for Women
Alkaram Studio Glamorous Winter Collection 2014-2015
Gul Ahmed Best Winter Fashion Dresses Collection for Girls 2014-15