Zeniya Lawn By Deepak Perwani Winter Shawl Collection 2019
How it is possible to talk about Pakistani fashion designers and forget about Deepak Perwani. Deepak Perwani, the most anticipated Pakistani fashion designer has launched its fall winter collection and is available at all Deepak Perwani stores. This collection is named as Zeniya lawn by Deepak Perwani. In this collection, Deepak Perwani has put his creativity and artistic work which will make you feel stylish comfortable and impressive in this season of winter. The fashion designer is known across the borders due to the huge success of his dress collections.
The dresses in this collection are decorated with fancy and luxury instruments which not only give a trendy look but also best suitable as a formal wear. Approximately every woman who has reached this collection has appreciated this collection because of these heart winning designs by Deepak Perwani. The dresses in this collection consist of beautiful prints and digital embroidered designs which are paired with finest quality woolen shawls. I think I just forgot to mention earlier that this collection consists of three piece suits kameez piece, shalwar piece and a shawl. Printed shirt piece, dyed shalwar piece, woolen shawl and embroidered motifs are included in each suit box.
Zeniya By Deepak Perwani Latest Winter Shawl dresses Collection for Women 2014-2015
Shawls are so in trend these days and you can get the idea of how awesome it will look when combined with the printed suit having the same print patches and color combinations with the kameez and shalwar piece. Each design is manufactured with the combination of two or three colors including most striking colors of winter like orange, pink, mustard, blue, red, black, yellow, brown, grey, green etc. These dresses are designed for women of all age groups who want a voguish and graceful personality while giving an eastern look. These dresses are stitched with remarkable techniques and unique sense of fashion. These designers' suits are now available in reasonable prices that are good news for many. So, now you are free to grab these designer suits easily without any kind worry. Have a look on the image gallery just posted below and get inspired by the latest designs!
You can see below here Zeniya lawn by Deepak Perwani winter dresses 2015. These all dresses are available at Deepak Perwani stores in Karachi, Lahore and Islamabad.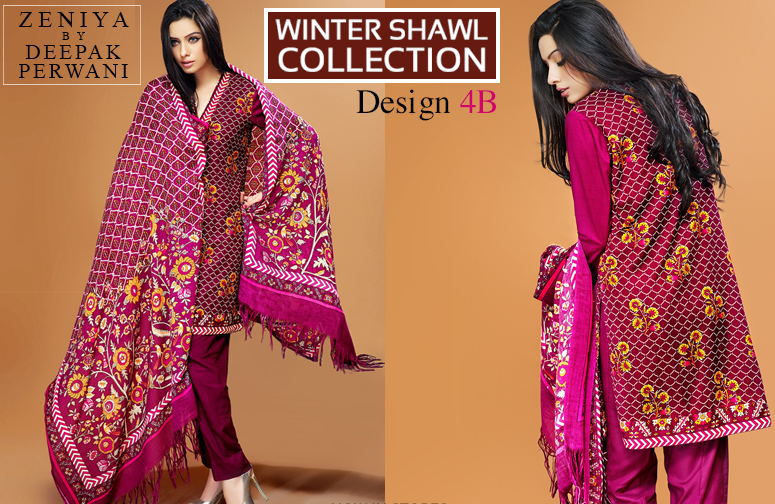 See More As:
Outfitters Winter Fall Collection for Boys & Girls 2014-2015
Chinyere Latest Men Kurta Styles & designs 2015-2016
Orient Textiles New Designs Winter Dresses 2014-2015