Zeniya Lawn Ready To Wear Dresses Summer Spring collection 2022
Ah! These endless summer gossips. Am I the only one who think that these days we all are gossiping so much about summer? But why won't we? Because it's time to celebrate summer after the cold winter. Though we usually have a long tiring summer but why don't we ignore all the creepy part and concentrate on all the fun we have regarding summer-like evening hang outs, cold beverages, juices, open stylish chappals, fresh & bright clothes, Oh from clothes I just remember another big name that has recently launched its summer-spring collection with many new designs and patterns. Yup, I am talking about Zeniya lawn, fashion that needs individuality and beauty. Zeniya lawn is now available at its stores nationwide. Another surprise for you ladies that this collection is available for the introductory offer of 25% off. Amazing designs and 25% off, what else you need beauties?
Since 2000, Zeniya lawn is serving with beautiful prints every summer. Formal to party and casual wear, all are provided by this label. Last year Zeniya lawn by Deepak Perwani won the hearts of girls. Deepak Perwani is an outstanding fashion designer of Pakistan that need no introduction.
Zeniya Lawn By Deepak Perwani Latest Spring Summer Collection Ready To Wear Dresses 2022
The fashion houses of Deepak Perwani are serving in different countries and is loved and appreciated by customers that are why it has reached the highest rank as the most demanded fashion house. Zeniya lawn is a quality name that is making your season afternoons and evenings glamorous with its delicate embroideries and gleaming patterns since past 15 years and has gained huge response. According to Zeniya: 'Fashion is what that never goes out & bringing classic is essential to achieve the timeless level'.
Like always, this year once again Zeniya lawn dresses are breaking the sunshine & mixing in elegance and glamour to make more versatile range for the fashion lover ladies and young girls. This year Zeniya came as an absolute stunner with bright, exotic cuts and graceful styles to make your look chic and sophisticated. This latest collection consists of ready to wear dresses, mostly short or normal length shirts paired with pant trousers. The prints are dramatic and utterly breathtaking that will not only polish your femininity but will also award you the smartness and I think that's all what modern women needs. The color combinations are very fresh and decent, bright as well according to summer taste. Ethnic patches to vintage motifs with intricate embroideries, these all are the main features of these dresses. Furthermore, have a look at yourself, it will amaze your eyes. Have a look on the image gallery posted below and get inspired  by the latest designs. Go stock your wardrobes with this amazing collection by Pakistan's Popular designer!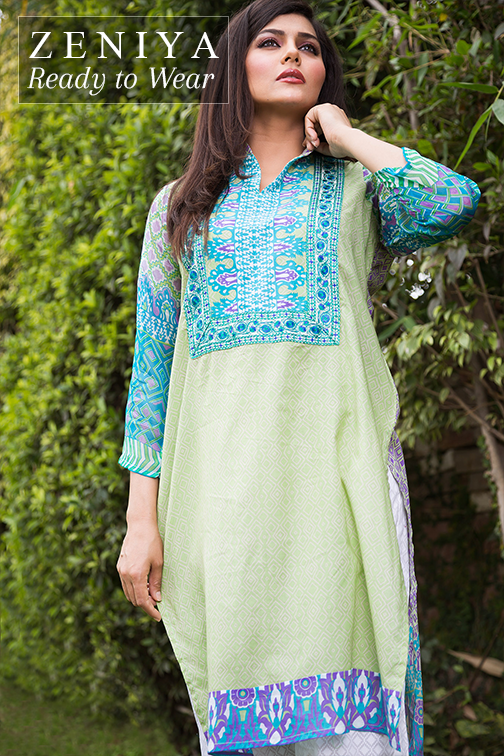 See More As:
Latest Designs of Men Summer Kurtas New Collection
Latest Women Summer Spring Dresses  by Pakistani Brands
Zeniya Lawn By Deepak Perwani winter Shawl Collection