Alkaram Studio Glamorous Autumn/ Winter Collection for Women 2019
Hello, winter people! So, how's it going with all winter stuff, etc.? Enjoying new styles and collections have? So nice because like always we are going to help your sophistication in the ways one never did. Yeah, talking about seasonal trends. As we all know that winter collections by most of the designers are disclosed. People have started buying and enjoying these hottest collections, Al-Karam is also one of those names who always provides you with elegance and uniqueness.
The brand owns a big name in Pakistan's textile industry and holds a position of one of the leading brand all over the world. The textile was first established in 1986 and always provides top quality merchandise to its clients both in local and global market. Al-Karam represents the symbol of uniqueness and traditional design that is why whenever young girls and ladies requires urban fashion with attractive styles in seasonal wear, the name of Al-karam suddenly comes to their minds. For last several decades, the textiles of Al-karam is presenting new inventions in the range of clothing line for men, women and kids. AlKaram present seasonal as well as occasional collections for its beloved customers including summer spring, autumn, mid summer, fall winter, festival and many more. These series include several varieties of casual wear, formal wear, party wear dresses, semi-formal wear, etc.
Al-Karam winter collection for women 2014-15 has been launched on dated October 18,2014. The Khaddar and Linen textiles with panel and necklines patterns are offered in this collection. The use of brilliant hues with magnificent cuts and sophisticated embroideries is provided to customers this winter where the prints are unique and impressive. The main factor of this un-stitched collection is that it perfectly fits everyone's choice, one can sewing it as per her needs and requirements. You can stitch it as simple shalwar kameez where kurta shalwar, flared frocks, and long shirts are so trendy these days. Both three pieces and four piece dresses are included in this collection including shirt piece, dyed shalwar piece and printed dupatta. Stitched collection is also available where dresses are amazingly designed with abstract and floral patterns that make you look pretty and confident by altering your overall look. The colour texture used for this collection consists of almost all the colours, so one can select according to her own choice like shades of brown, purple, pink, yellow, black, purple, green, royal blue red and many other colours.

AlKaram Studio Trendy Winter Dresses Glamorous Fall Collection for Women 2014-2015
I know after reading about such long lists of fascinating facts by Al-Karam, one may think about the high rates and prices of the dresses but no, this fashion house has launched all these collections in a very reasonable price rate which ranges from Pkr 1000 to Pkr 8000 (Pakistani Rupee) which provides an easy access to women according to their range. Here we show all the collection details and designs of the fall winter collection by Al-Karam for the year 2014-15. Have a look on the image gallery posted below and get inspired by the latest winter prints and designs!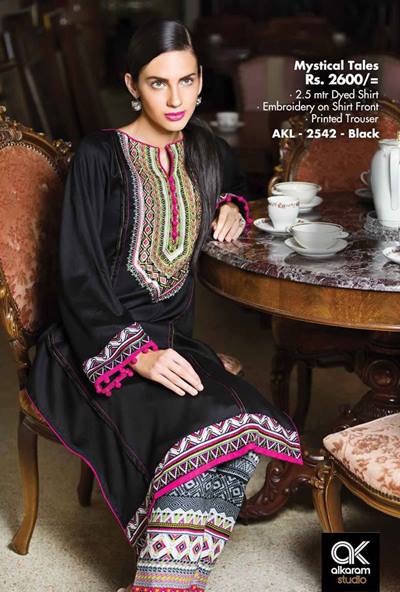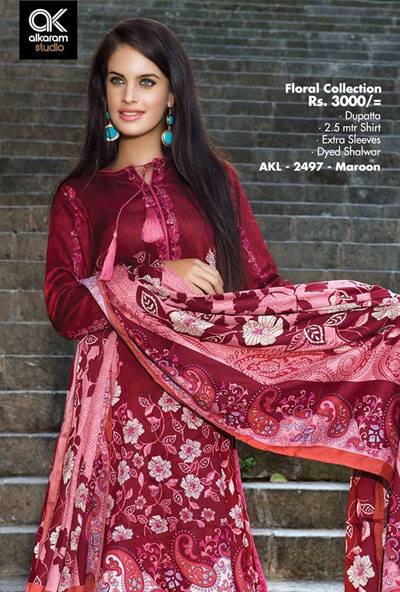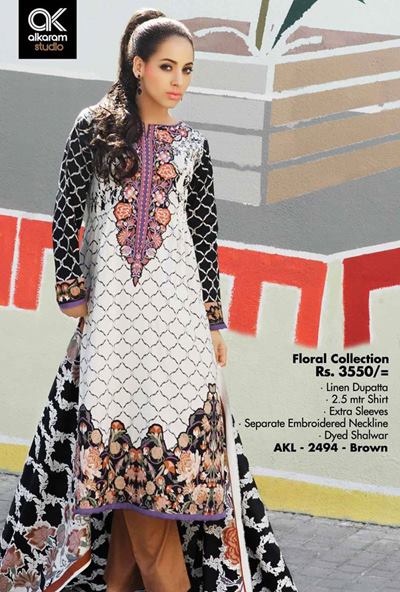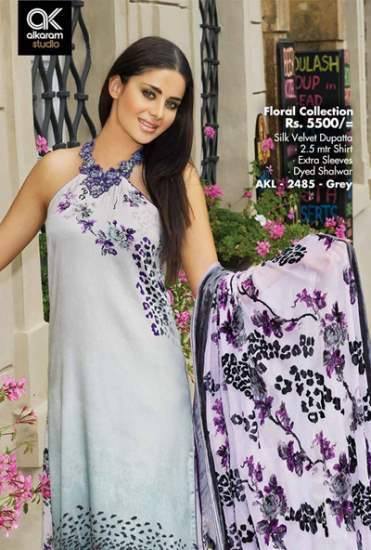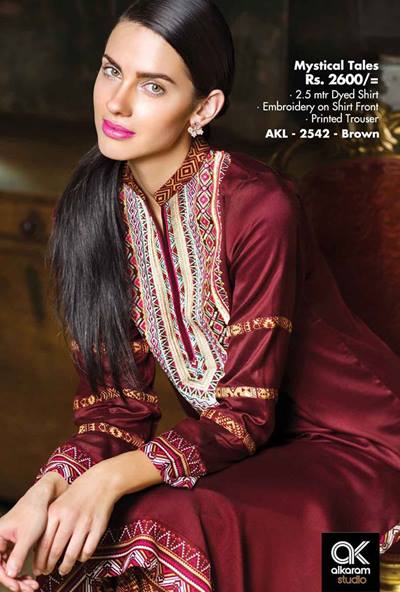 See More As:
Gul Ahmed Best Winter Dresses Collection for Women 2014-15
Nishat Linen Stylish Women Winter Fashion Dresses 2014-2015
Latest Fashion of Women Palazzo Pants with Short Shirts & Kurtis