WARDA Designer Ready To Wear Winter Dresses Collection 2019
Warda is also a very familiar name in design, colour and garments world. Though the history of the brand is not too old in Pakistan yet it has made a huge success through its proactive nature in the fashion field. There maybe a range of brands in the market each working more efficiently in its own ways but when it comes to Warda, then it is comparatively more adaptive and equally liked by all age groups catered through the brand.
The brand says it believes in this way:
"At Warda, we believe in creating & exploring opportunities. We have the passion for competing and stay ahead, and this philosophy has led us to create products that are more than the brand and meanings for WARDA loyal customers. Our success story of the brand tells everyone as what are we up to!"
WARDA "Winter's Grace" Designer Ready To Wear Stunning Dresses 2014-2015 Collection for Modern Women
Previously WARDA has been launching its latest summer collections with amazing cool prints and designs but now as the weather is getting changed, the brand is introducing its winter collections like every year. This year the collection once again is full of vibrant colours, decently embroidered catalogue, formal wears and comfortable wearing stock. Now one can easily get the piece of her choice at online stores provided by the brand. Or if one is going to shopping in a regular manner than winter collection by WARDA with a range of colours and clothes is available according to the customer demands. Customers want nothing more than a graceful collection of garments all at one place that is beautifully managed by WARDA. Choori pajamas and pant pajamas are available with shirts.
So, I think it is the right time of the year to go out and enjoy the weather, as well as shopping at the same time. The brand is not only cautious about seeking the attention of customers through its unique clothing stuff but also possess the concern about giving them a fine shopping experience which is the reason that the customers get easily attracted towards outlets of Warda while being in a market.
The fine and high-quality fabrics make the dress comfortable to wear and last for a longer period. These new arrivals and enhancements of garments have become a source to create a desire to get the designers gallery among the female community. Both stitched and unstitched clothes are available in this collection. The ready to wear dresses mostly composed of shirts of not very long not very short shirts with choori pajamas and pants introducing this new trend of normal length shirts. The amazing and decent color contrasts and unique prints make the dresses wearable for women of all ages. The dresses are available in all colours like blue, skin, pink, red, etc. in reasonable prices.
For your comfort, here we are displaying the top dresses from the winter collection 2014-15 by WARDA with prices.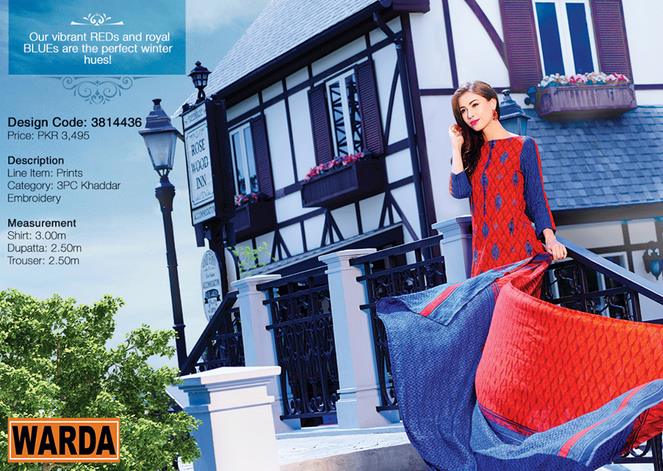 See More As:
Rabea By Shariq Textile Kurti Collection for Girls 2014-15
Satrangi by Bonanza Cambric Lawn Winter Collection
Mausummery Winter Fall Collection of Women Dresses 2014-2015