Best Bridal Wedding Hairstyles Trends & Tutorial with Pictures
In this wedding season, how come we start talking about all the wedding stuff? No, we won't stop discussing the features of this charming event. Sometimes I think I go a little biased, always sharing all the girly stuff but please boys, don't get mad at me because you know girls are so conscious about various things of their lives especially when it comes to their wedding day decisions so I have to guide them right. In my life I have seen so many brides, beautiful dress, ideal makeup and elegant hairstyles, of course we all have but I have never come to conclusion that hairstyle I will rather choose or maybe I never had a good look enough on hairstyle to judge. Then I decided to do a self-search and I did that is the reason I decided to share it with you girls also.
Today I have come up with the best bridal hairstyle, apart from makeup, jewelry, and accessories, hairstyle is also an essential factor for bridal as hairs change the complete look. Similarly good ones enhances beauty and make you even more attractive as bride is the center of concentration of every body's eyes and definitely at this once in a lifetime event you will never like to ruin the catch and look amazing in all possible ways.
Latest Bridal Wedding Hairstyles Trends & Tutorial: Hair Looks with Pictures
The wedding bells are ringing, omg it reminds me of 'ring my bells, ring my bells' lol. Anyways there is a variety of styles either your hairs are long or short, you don't need to worry even a little. Ok now let me give you choices, a bun is known as the style of the bride. Furthermore, there are way too many styling and types of buns. Also, a wedding bride can add flowers in her bun to give a fancy look, we have included these in easy step by step hairstyles
If you want to leave your hairs open than wet and good. Put regular nice curls in your hairs and set a floral crown on your head, here you go princess your groom is surely going to faint in the beauty of you. Side bun, messy bun, wavy bun, sleek bun, etc. are the other choices you have. Furthermore, these images are going to help you in all possible ways to make it handy choice for you regarding the hairstyle you are going to wear on your big day. The series includes top bridal hair styles for mostly Pakistani, Indian and some western wedding trends. Have a look on the below posted image and get inspired by the latest bridal hair styles. Here you go girls.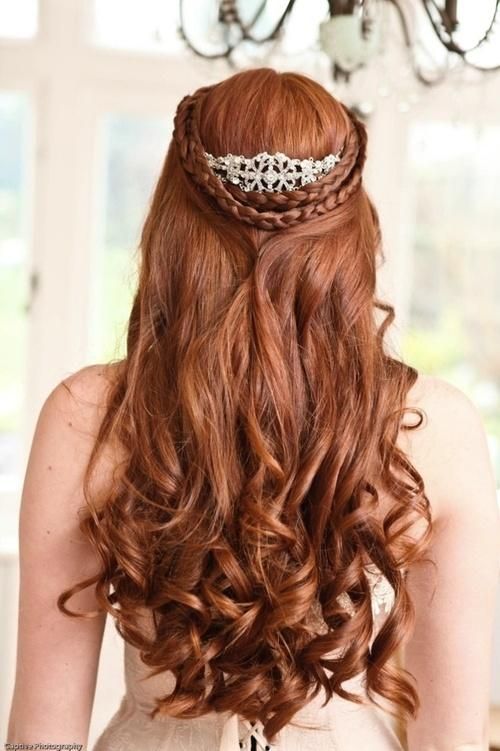 See More As:
Beautiful Party Wear Hairstyles Trends & Tutorial for ladies
Top 10 Popular Bun Hairstyles Trends for the year 2015-2016
Popular Women Ombre Hairstyles Looks, colors & fashion