Latest Trends Best Party Hairstyles Tutorial Step By Step Ideas & Looks
Get a haircut, make a bun, curl your hair or straight them up; a vital difference in the look is formed by the hairdo you adopt. Facing the crowd for any event needs a perfect hairdo to complete the look of a subtle lady or a diva. Half up half down styles, bumps, buns, messy pining upbraided styles or ponytails; all have innovations and trendy stylings. Most of the hairdos own a bump as in this era the fashions of 1960's are back in a new and modified cosy way. Never to worry about your hair type, every style can be done with both curled and straight strands what makes a difference is what suits on your face. For an evening party curls and bumps are classier and for tea parties or semi-formal events straight hairs and ponytails look adorable. Let's pick a look and explore its step by step tutorial.
Step By Step Best Party Wear Hairstyles Tutorial Looks & Ideas with Pictures
Okay, the look is straight hair braided hairband style and as the style we are going to learn in detail look more adorable in straight strands so if you don't have naturally straight ones, first Straighten your hair and pick a bunch of strands from underneath your ear near the neck.
Remember! Trying this style with curled hair would also look good; straightening is not a compulsion at all!
Make a thin braid of the hair you just separated with you hand.
Take some ore bunches from both right and left side and make 3-4 thin braids on both sides as shown in the picture below.
Now grab some hairpins, comb your hair backwards from the forehead, hold one braid from left and wrap it around your head pinning it up on a right side underneath ear. It'll form a thin hairband.
Repeat the above-stated thing for all braids of a left side and right ones do the same thing pinning them up to a left.
Doing so, you'll form a wide hair-knitted hairband. And you are done! Look how adorable it is.
Party hairstyles have a huge variety; you can try many others like braided crown, half updos, hair-bow styles, buns, bouffant hairdo, messy curls and lot more.
Decoration of beads decorative pins and flowers can also be used to enhance the beauty of your hairstyle. Some of such hairstyles in tutorial pictures are listed in the images below, and some new styles on celebrities and so are also gathers and brought to you by this post. So just learn the styles with simple labelled steps, try them, and rock the party glittering in the whole crowd!
Have a look and Stay Connected!
MESSY BUNS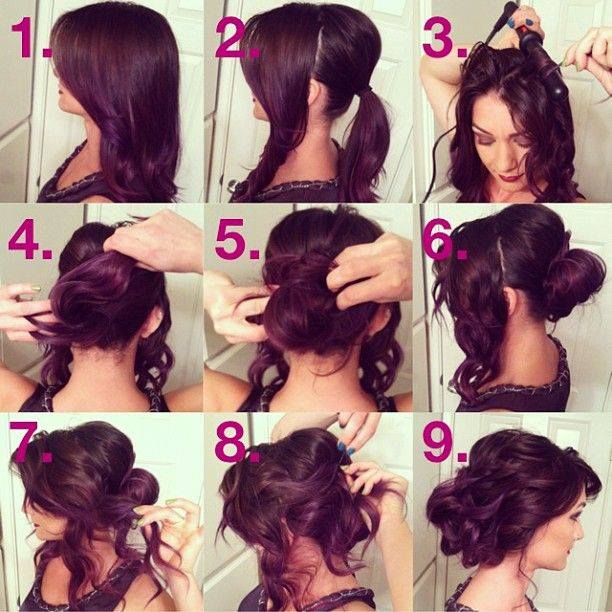 TWISTED SISTER Double criss cross braids

HALF CROWN BRAID
THE LADY GAGA HAIR BOW
BIGGER BETTER HAIR_BUNS
KNOT YOUR AVERAGE PONY
PARTY PONYTAIL HAIRSTYLES

THE TWIST BRAID
PARTY UPDOS
THE BOW BUN

FRENCH FISHTAIL CHIGNON

See More As;
Long Hairstyles Trends & Tutorial Steps for Women
Casual & Formal Men Short Hairstyles Fashion for Youngsters
Beautiful & Most popular Ladies Ombre hairstyles, colors & Looks