Fahad Hussayn Bridal Wedding Dresses Collection 2019
Fahad hussayn, a promising and leading fashion designer of Pakistan who is running his couture line from years, as he started his fashion career in 2009 and got huge fame that today it is included in top 10 fashion designer of Pakistan after HSY, Deepak Perwani, Maria B, Sana Safinaz and others.  This talented fashion designer has designed number of collection for men and women and is always loved by all fashion lover people. The brand provides seasonal dresses as well as party wear to bridal dresses for women and men collections also.
Recently, the designer has taken part in Telenor Bridal Couture week and showcased his amazing designed bridal collection. In TBCW 2014 which was held in Lahore, Pakistan, Friday, all the top fashion designer stars took part and Fahad was also one of them. The bridal collection by Fahad was titled as "Nautanki Rani". As the name depicts some cultural era, Nautanki Rani is based on inspiration from a folk story or fairytale in exact words derived from folklore set predated Derawar and Multan fort.  As from the name, Nautanki Rani by Fahad Hussayn comprised of the color palette inspired from Multani architecture, colonial influences, and locally crafted techniques.  The collection contains the wide range of delicately crafted couture wedding wears for both genders i.e. men and women.
Latest Bridal Wedding Dresses Designs by Fahad Hussayn Collection 2015 at Telenor Bridal Couture Week 2014-15
The dresses in Nautanki Rani Fahad Hussayn bridal collection at Telenor Bridal Couture Week 2014-15 are adorned with vintage tilla, thread work, some other techniques of tilla work and other handcrafted embroideries. While looking at this collection, it comes a feeling of ancient times back to centuries because of the museum couture prints in a vibrant blend of prints, while maintaining the high ends of modernity with embellishments and embroideries stitched to perfection. All of the pieces in this collection "Nautanki Rani" by Fahad Hussayn were highlighted with the vibrant array and personified cuts. Other than that model were dolled up with crowns. This mixture of ancient styles with fresh dedication and passionate designs won the hearts. And for once all those models wearing Nautanki Rani by Fahad Hussayn changed the map of the runway. The traditonal lehengas are the main part of this assortment, they are well adorned with golden embroideries, laces, tilla work and beads. Crystals and pearls along with mukesh work is done on the Kurtis with awesome necklines!
This collection received big applause because of the unique, unusual and sensational drama where the magical designs spelled the viewers. Indeed, these latest bridal wears are praiseworthy and if you don't believe than you can look it with your eyes here in the pictures, only then you will realize that all these praising words on this site for Nautanki Rani are still not enough. Anyways, have a look on the image gallery just posted below and enjoy the latest wedding dresses designs of the season!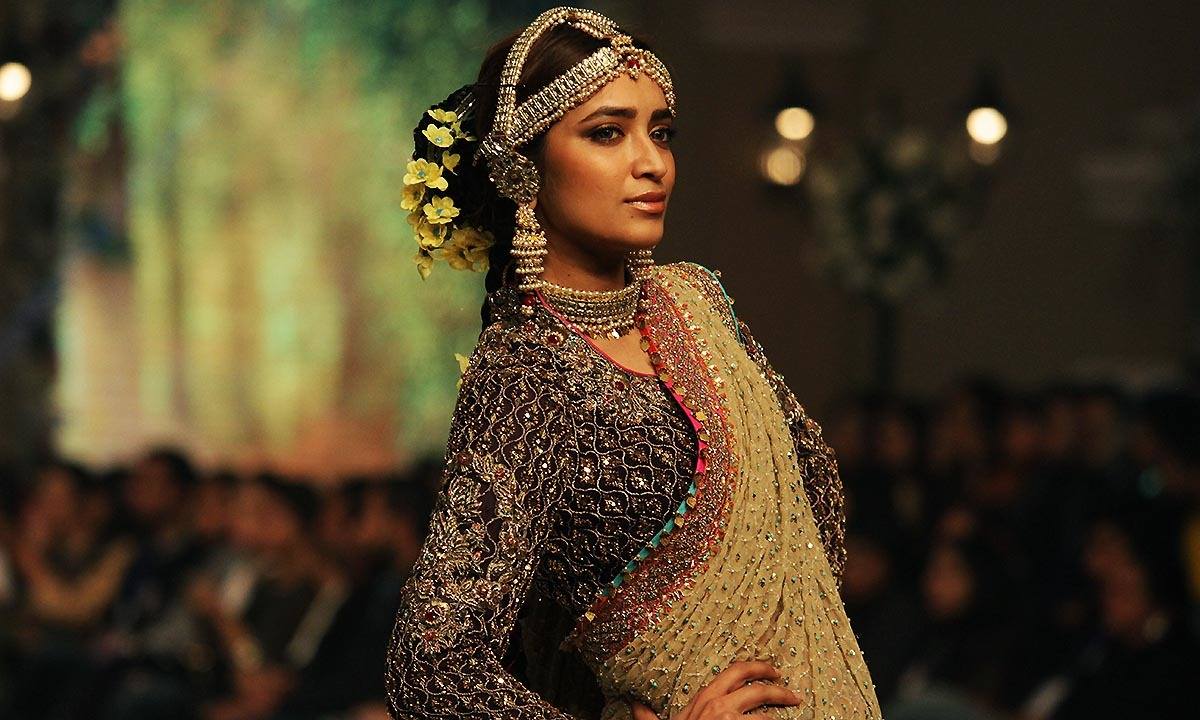 See More As:
Maria B Bridal Fancy & Modern Dresses Assortment at TBCW 2014-2015
Umer Sayeed Wedding Dresses Collection for Men & Women 2015 at TBCW 2014-15
PFDC LOreal Paris Bridal Couture Week Latest Pakistani Designer Collection 2014-15