Latest White Henna Designs Tattoo Trends 2020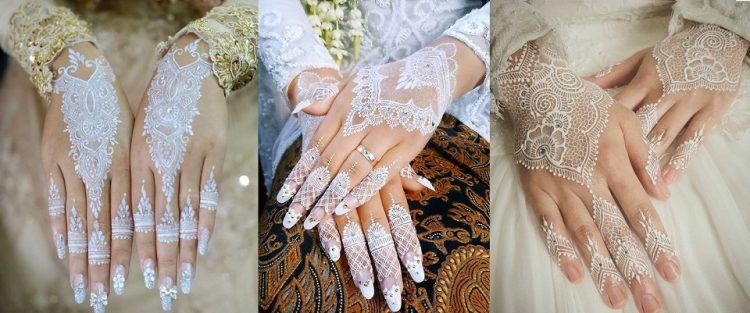 One popular trend that is prevailing in the world of henna tattoos is the use of white henna. Yes! Thinking of applying white henna over our hand and feet, well! That is something new to hear and weird to sound but a lot of girls don't know the pretty side of it. Like how amazing and gorgeous it looks on your hands when you apply it using intricate designs.The trend of applying is increasing day by day. The fashion is mostly seen in countries like Qatar, America, United Kingdom, Malaysia, Turkey, Dubai, Saudi Arabia, Sudan, Algeria, Indonesia, Korea, Egypt and many more. The white mehndi artists are sharing their great work on their social networks like youtube, Instagram, pinterest, etc.
Source of Images: Pinterest & Instagram.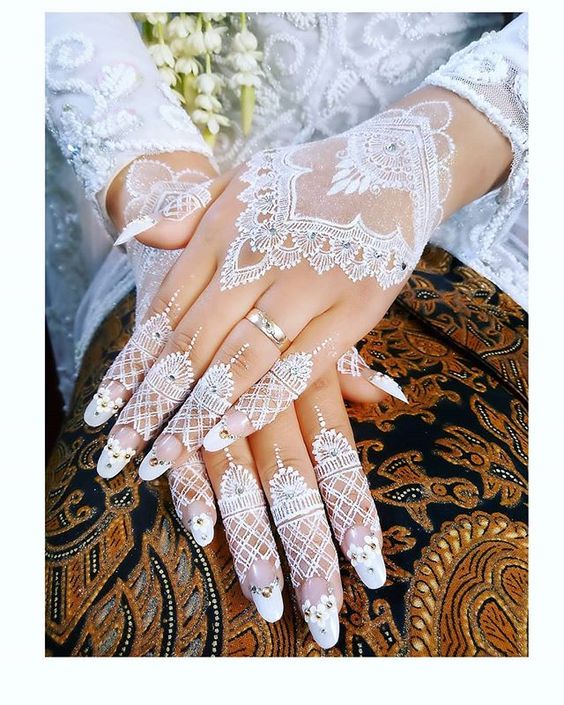 Latest White Henna Designs Tattoo Trends Collection 2020-2021
In recent days, white henna has rapidly gained popularity and now every other fashion blog and website is flooded with the new, creative and novel designs. In west the use of white henna is particularly more than in south eastern part of Asia. But it would bring a revolution in henna/ mehndi art of the sub-continent as it looks more alluring and appealing over a little tan skin tone.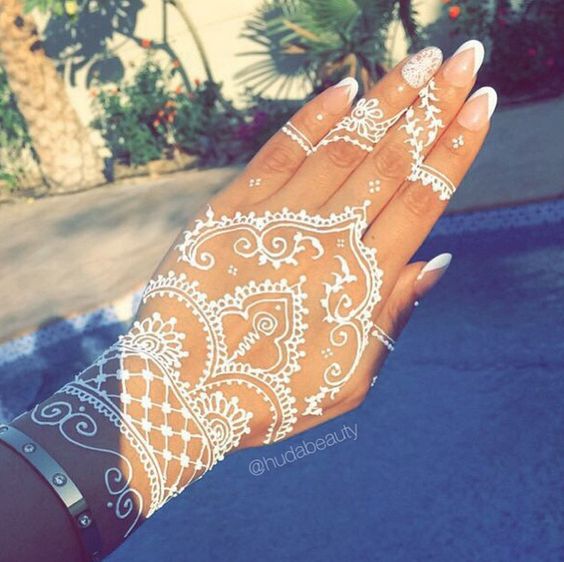 How to Make:
Like other colored forms of henna/ mehndi, white henna tattoos are also available ready made in the market. You just have to put the sticker out and apply on it on hand. Press lightly and wait for few minutes. After some time put off the sticker you will get a beautiful print on your hand. White henna tattoos are also applied over the feet using the same scheme of patterns yet in a more decent manner.
As shown in the images below, you'll be enthralled to see that how amazing it can look over your feet. You can either apply a bail or motifs on both the feet. In case of henna motifs, try to keep it in the center with a complementing delicate bail covering the sides. You can either apply a complete round motif in the center or split in in half to pair it together on both feet.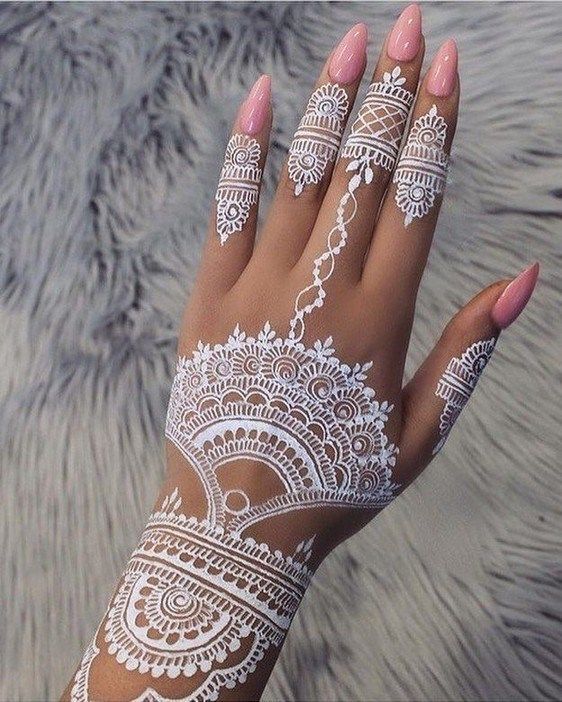 Wow! Now that's some treat for your hands. One tip that has to keep in mind before applying white henna, is to moisturize your hands well and take extra care of your skin to get that fascinating look right after.
White henna cones are also available in the markets. Buy a good quality cone and apply it step by step. With great precision and delicacy. Fine motifs are crafted using the pointed tip of the cone. Unlike other forms of mehndi art, it  requires more delicate patterns with less shadings and fillings, as fillings might overdo the whole design and will simply mess it up.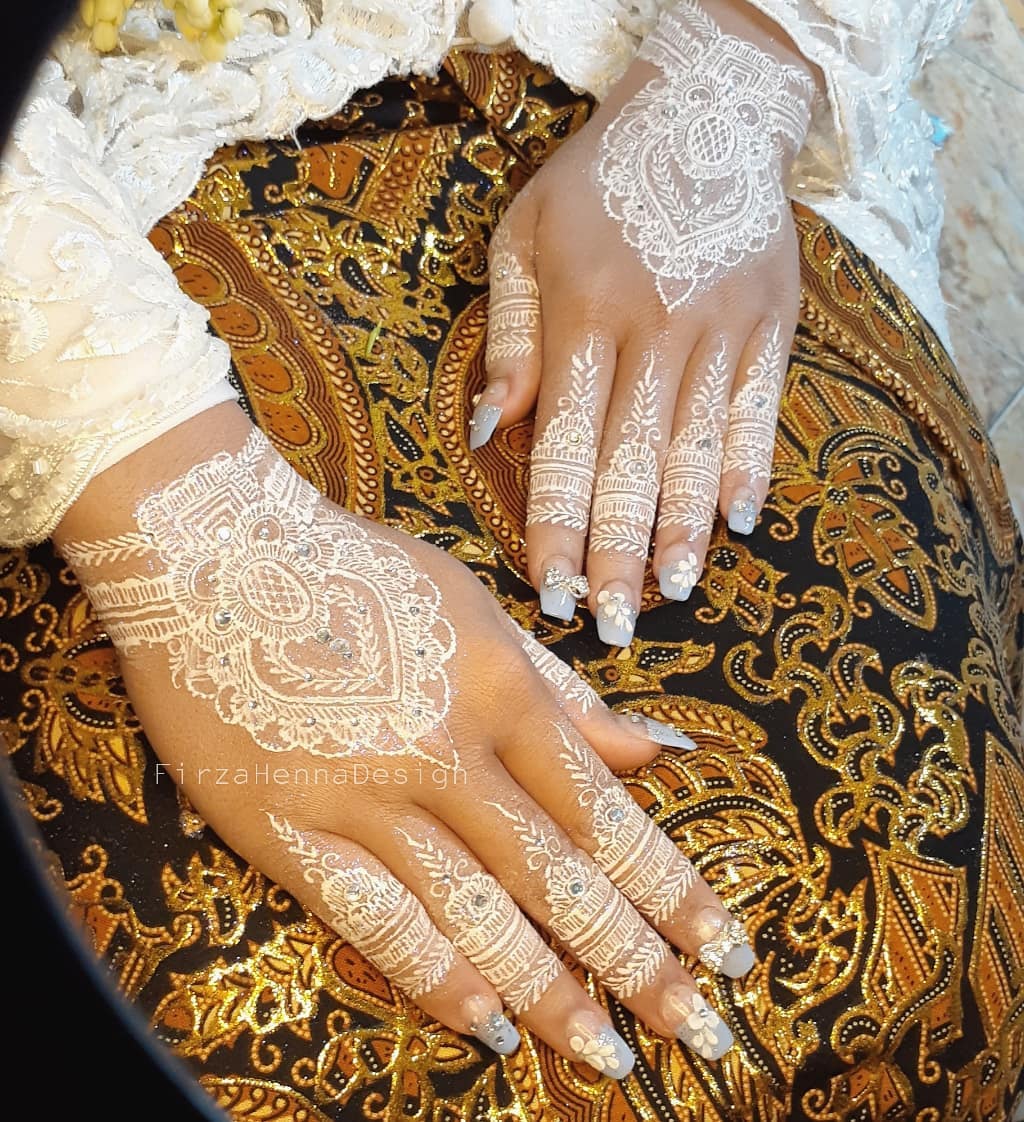 Traditional & Fancy White Henna Designs:
Now let's have some glance over the popular white mehndi patterns and designs. The loveliest of all are very fine and delicate traditional patterns that cover the front of your wrist and back of the hands connected with the finger pattern with very thinly designed chain of patterns.
Simple Easy White Henna Designs for Casual Look:
Trying to keep it simple and light will give it the look you'll love to have.You can try the simple and easy mehndi pattern for daily wear routines and for casual looks. Create a simple motif or leaflet. Form a geometric design to complement it with the casual jeans look.
You can opt some latest white henna designs tattoo designs for casual looks. It is used to carry for traditional celebrations like eastern fancy weddings, as they have more of a casual outlook. But one edge it has over other forms of mehndi art is that you can carry them with both eastern and western apparels.
Bridal White Henna Designs for Wedding:
Bridal white mehndi designs looks amazing. It looks like you are wearing some gorgeous set of jewelry over your pretty hands. These patterns vary in styles, either you can create round circular motifs using spirals, net, flowers and dot patterns or you can create motifs using bold set of figures. Either way the best of wedding designs are applied in such a way that it looks like that some pretty, delicate piece of white lace is adorning your hands on your big day.
For Dark Skin:
The white patterns on dark skin looks so appealing. Here we are posting some of the most beautiful designs for dark skin. You will love to create these arts.
Round Motifs:
These super delicate circular and round motifs look so mesmerizing. You can create this simple pattern with few steps and little effort.
See More As:
Stylish & Trendy Arabic Mehndi Designs
Latest Beautiful Eid Mehndi Designs Collection
Beautiful Indian Mehndi Designs