Sana Safinaz Winter Shawl Collection Ready To Wear Dresses 2019
     Sana Safinaz is the brand that does not need any introduction owned by Sana Hashwani and Safinaz Munir first established in 1989. Sana Safinaz is one of the most popular and demanded brand by women of Pakistan and among other countries. Yeah, exactly the fashion house is not only popular on the national scale but it has got air internationally too. If we get to history of designers of the brand then, Sana Safinaz are not only business partners but also happen to be sister's in law. The ladies have amazingly took responsibility of establishing Pakistani fashion and are known as one of the most successful fashion designers. These two gorgeous ladies have become trailblazers and trendsetters because of their creative endeavors and innovation. The innovation, diversity and creativity is the main factor of every collection by Sana Safinaz.
The most known collections by Sana Safinaz is mainly Bridal Couture line, Diffusion, Pret, formal to casual wear. The brand has jumped into retail business that took them to a whole new level and has made it mutually beneficial to both the brand and the customers. As because of their various retail outlets all across the Pakistan, the brand was able to display and showcase its creations on bigger platforms,
Every season Sana Safinaz create merry marriage between ethnic patterns and designs which are incorporated with brilliant cuts, styling and unique tailoring.  Here we are introducing you people with the latest winter shawl collection for the year 2014-15 by Sana Safinaz So, now let's just talk about the best part of this collection which are the warm shawls and winter ready to wear dresses. These outfits are so trendy and stylish to wear, mostly are three piece suits having medium length shirts paired with churridar tights and shalwars. Shawls are added instead of dupattas, this gives very traditional taste to this collection. The shawls are made up of pure wool, khaddar, mareena, linen stuffs. Get update your winter wardrobes with this amazing assortment by Pakistan's Best Designers who are popular all over the World!
Sana Safinaz Latest Winter Shawls Collection Designer Ready Made Dresses for Women 2014-2015
Once again the brand has presented a splendid collection of ready to wear dresses for winter. The dresses strike a fine balance between East and West. The collection consists of two pieces ready to wear dresses. The dresses are made with the use of finest appropriate winter fabrics which are best suitable for party wear, as well as casual wear. The use of beautiful colours and gorgeous embroidery is adorned on these dresses. The unique prints with amazing colour contrast and the fine stitching look amazingly impressive. These dresses are now available in Sana Safinaz stores for sale in affordable prices.
So, young girls and ladies don't miss your chance of getting the finest piece from this ready to wear collection by your favourite brand. Here I am to show you some masterpieces from this ready to wear collection making it easy for you guys to choose. Hope you will appreciate the effort.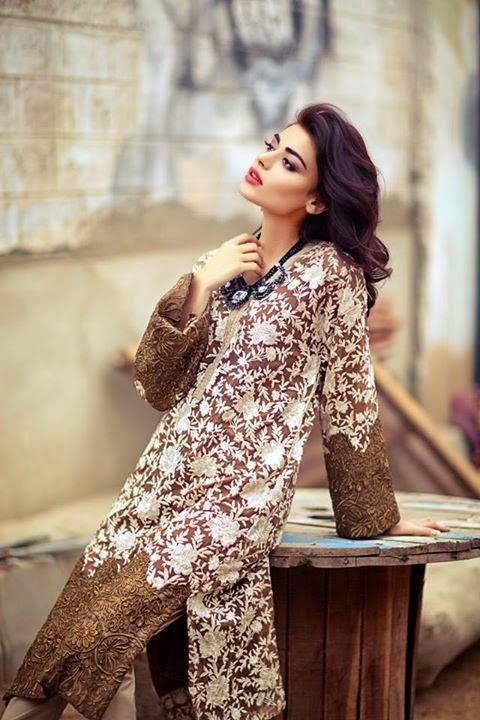 See More As:
WARDA Designer Ready To Wear winter Collection 2014-15
Satrangi By Bonaza Cambric Winter FallCollection for Women 2015
Latest Hijab Syles & Designs Tutorial step by step with Pictures for Girls 2015
Gul Ahmed Latest Winter Collection Best Embroidered Dresses 2014-2015