VS Textile Mills Vadiwala Classic Lawn Embroidered Chiffon Collection 2020
Everybody busy in summer rush? Ahan but how come you girls forget your favorite summer collections. Yeah, as a matter of fact girls enjoy the season more when it comes to shopping. Many brands and well-known textiles are days by day launching their seasonal collections, and yet many has already launched their super amazing summer collections that also includes VS Textiles, a name of superior quality and elegant prints. VS Textile Mills has released its all new summer collection, or one can say another summer collection for women that are Vadiwala Embroidered Chiffon Collection 2015. This VS Textile Mills Vadiwala embroidered chiffon collection 2015 contains a huge variety of embroidered dresses as per title.
This collection consists of A-line shirts and also long shirts paired with trousers & tights. Vadiwala's embroidered chiffon collection 2015 by VS textile mills consists of three piece suits having 3 meter embroidered neck shirt, chiffon dupatta, and a 2.5-meter trousers. These dresses are both embellished with embroideries as well as printed in beautiful ways. There are no words to describe the beauty of prints as they are blooming, stunning and full of grace. The elegance of dress is even more maintained when you will see the embroidered neckline on beautifully printed shirts.
VS Vadiwala Textile Mills Summer/ Spring Lawn Chiffon Collection 2015-2016
The color combinations are very refreshing and bright with red, yellow, blue, pink, peach, black, orange, purple and many more. All the dresses of VS Textile Mills Vadiwala Embroidered Chiffon Collection 2015-2016 are appealing in their lovely and stunning color combinations. This collection is perfect for the women of all age groups either it's a young girl wearing any of these dresses or a lady of older age, they all will give a different elegant look. One can select the dress of her choice as Vadiwala's are providing a huge variety for you ladies. These dresses are perfect as well as comfortable to wear at casual or seasonal events as well in summer. You can go confidently anywhere while wearing these beautiful dresses. These dresses are available at all leading stores of Pakistan. The price range of these dresses is kept very reasonable as of 1900 PKR (Pakistani rupee). Oh, come on ladies! What are you waiting for now? Because this is all you need. Now enjoy the glance on these pretty dresses by VS Textile Mills Vadiwala Embroidered Chiffon Collection 2015.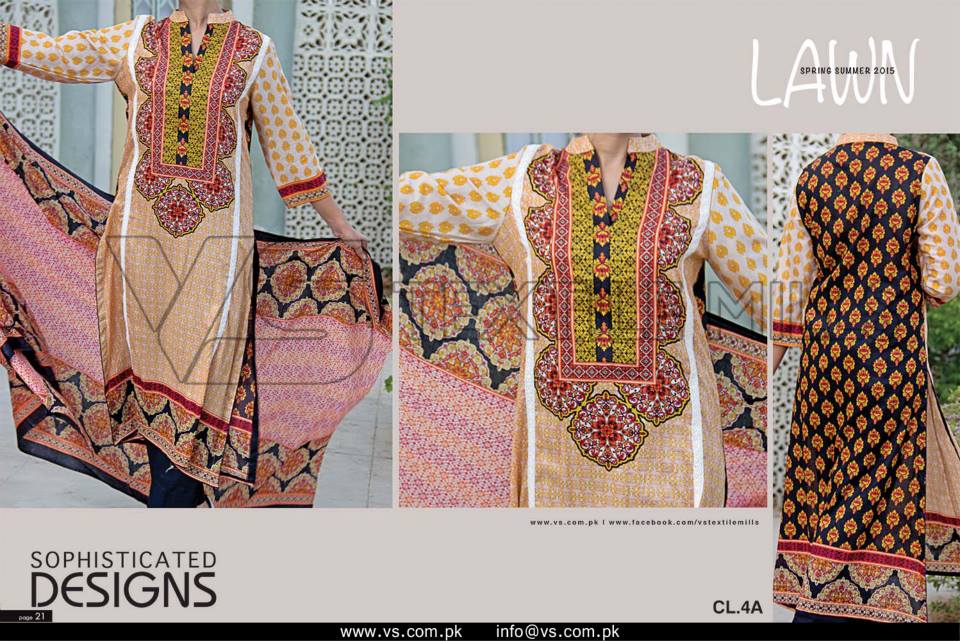 See More As:
Khaadi summer/Spring Lawn Suits for women 2015-2016
Gul Ahmed Beautiful Lawn Silk Dresses Designs for women 2015
Latest Indian Anarkali Dresses Suits Trends for Girls by Natasha Couture