Pakistani Party Wear Dresses Frocks 2020 by Zunaira Lounge
Zunaira's Lounge is not so the old name for us as it joined Pakistan's fashion & textile industry not a long time ago. The brand stepped its first feet in Pakistani fashion market in August 2010, and the brand has caused a stir in the market with its elegant traditional but contemporary cultural clothing line. The reason women are so satisfied with this clothing line is that it always came with desirable collections perfect for every kind of gathering and functions. It is a known fact that being a girl means hard decisions of wardrobe, even if they have a lot of dresses in their wardrobe but in spite, they need something new for every occasion or event, and the big issue of frustration is a perfect dress for a perfect occasion. So, usually shopping is the best solution to all these problems, the next thing is shop surfing blah. For the ease, Zunaira lounge has made this whole tiring task, a simple choice at one place. Today we will share the best Pakistani Party Wear Dresses Frocks 2017-18 by Zunaira Lounge!
Zunaira lounge is a well-known fashion name of Pakistan's fashion industry, no matter if it might not have anticipated a much positive response as to reach their target market but yet they are definitely stepping fast towards great success and the reason for continuing the clothing line. And is the great response among customers, day by day increasing demand for Zunaira lounge's clothing is making the brand popular, and I can see the day is near when it will be listed in the top famous designer brands of Pakistan.  The clothing house is known as ladies clothing house where the primary products offerings are formal wear, party wear, casual wear, ready to wear dresses.

Zunaira Lounge Pakistani Party Wear Dresses Frocks Collection 2017-2018
Today demands of social women are increasing day by day, and obviously, party wear dresses are truly essential to women which is the reason why they are always seen striving for the suitable dress for them to look as much good as they want to. Keeping in mind this need of women, Zunaira's Lounge has presented its party wear formal dresses collection. This collection is full of embroideries, and fancy embellishments that are quite attractive and impressive & the beautiful colour combinations are just enough to make you fall in love with it. Through these beautifully adorned with embroideries and embellishments with the deep intricacy of details, Zunaira's Lounge party wear formal dress collection 2017-18 has brought some exceptionally stunning dresses for you ladies including front open double shirts, gowns, umbrella frocks, angrakha style dresses, long pishwas suits and many more.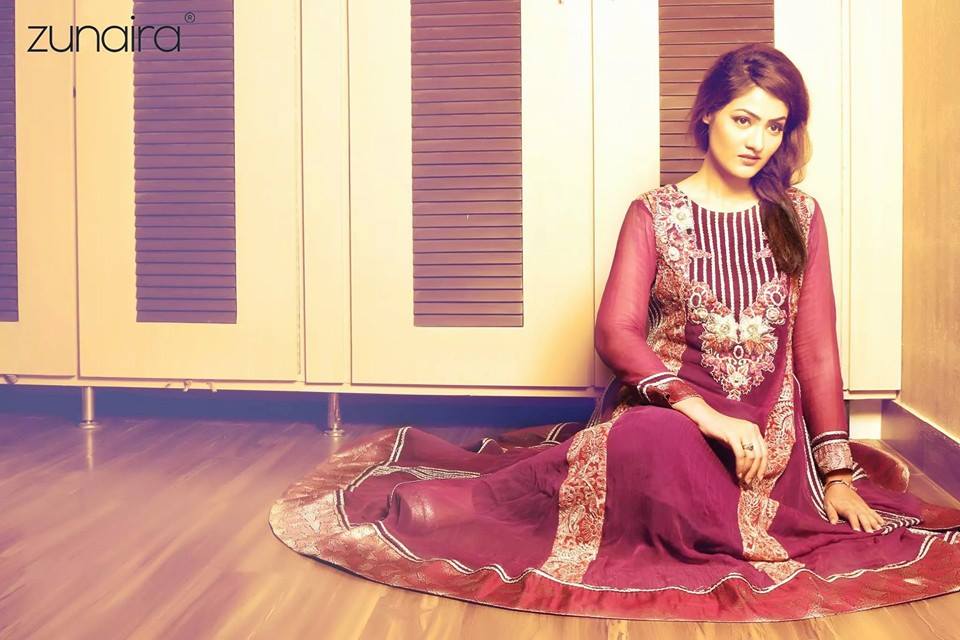 Each dress contains needlework along with the amazing blend of vibrant colours; this all gives a yummy look to dress that one cannot find any other better place for choosing the best dress. Maintaining the terms of current fashion by pairing Kameez, Kurta and frocks with straight pants, churidar pajamas, palazzos, and trousers. The dresses are pigmented with delightful colours like pink, green, off white, orange, gold. Other than that the styles and cuts depict the creatively artistic fashion that is so impressive and elegant. Let's take a peek at these eye-catching amazing dresses of Zunaira's Lounge party wear formal dress collection 2017.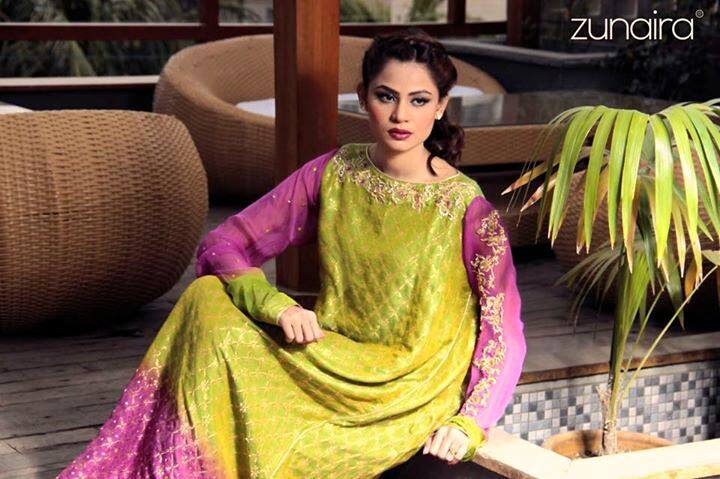 See More As:
Chinyere Men Party Wear Modern Dresses Collection 
Beautiful & Fancy Umbrella Frock & Suit Designs for Women
Stylo Shoes Fall Winter Collection for Women & Kids 
Front Open Long Double Shirt Dresses Designs for Girls