Versace Latest Clothing Men Women Trends, Bags, Shoes, Watches & More
Versace is not a mere brand but is regarded as an entire fashion empire. It took off its start from 1978, where Gianni Versace laid the foundation of Italy's most Luxurious fashion company, hence named after him. Primarily the company's focus remained on the production of ready to wear collection and leather accessories, but later it extended some its other lines which include Versace Collection, Versace Jeans and Versus Versace. Each of these lines is distinct regarding the products labelled under it. Today we will discuss the Versace Latest Clothing Men Women Trends.
Versace Latest Clothing Men Women Trends, Bags, Shoes, Watches & More
Their range includes vibrant and striking outfits for women, couture for men, apparels for kids, shoes, jewellery and other accessories. Surprisingly nothing is left out from the sphere of this giant fashion corporate. From the 70s till now, Versace earned its name of fame because of its dazzling prints and vibrant hues. More than 30 years of working and Versace never let its competitors take its place. Here today we will discuss the Versace Latest Clothing Men Women Trends for shoes, bags, watches, etc.
Versace Latest Clothing Men Women Trends Collection:
Versace is known for the diversity of fashion offerings it is providing to its customers. It deals from Haute Couture to retail fashion, making its luxury collection available for everyone, from celebrities to millions of its other customers. Atelier Versace is, however, an exclusive haute couture line responsible for providing to international celebrities likes Claudia Schiffer, Angelina Jolie and Jennifer Lopez. The line works to produce custom and handmade dresses which are exquisite in designs and fabulous in outlook.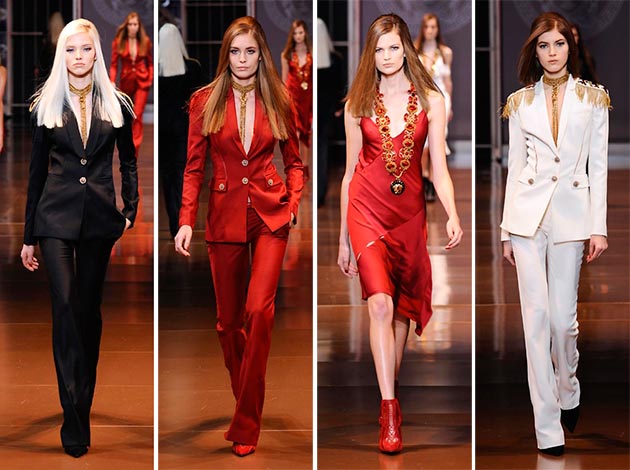 Versus Versace:
Versus Versace was created by Gianni Versace in 1989 as the diffusion line of the brand and was gifted to his sister Donatella by him. It is on the primary lines of the house and produces extremely elegant fashion piece. Ever since Donatella resurrected it in 2009, the line has grown in its impact and popularity among the fans. Keeping the original vision of Gianni, this line is creative diffusion of the brand.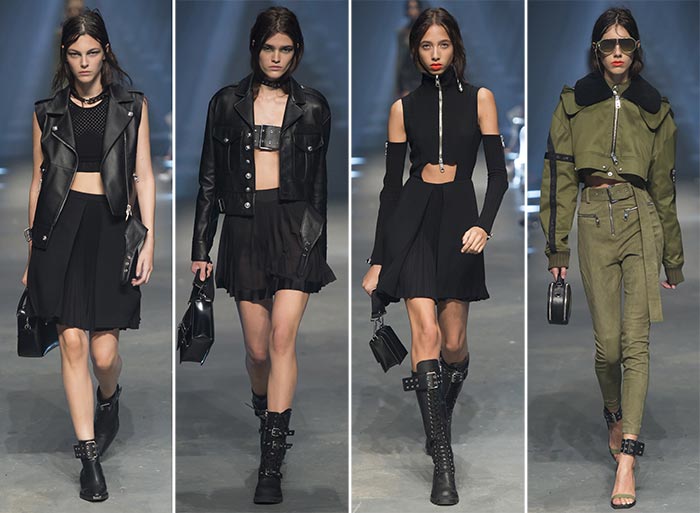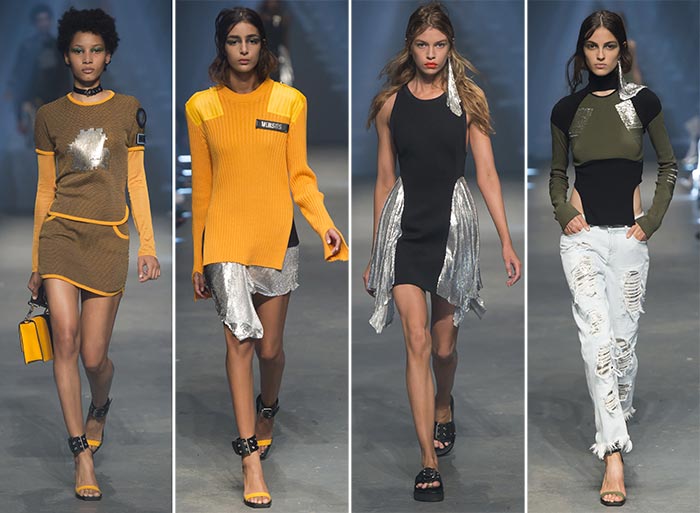 Versus Versace Latest Clothing Men Women Trends, Spring/ Summer 2022
Here we are posting some of the latest designs of men and women dresses from Versace SS 2022. Have a look at the image gallery posted below. And get inspired by your favourite brand. Taking to the catwalk during London Fashion Week, designer Donatella Versace presented the spring-summer 2022 collection of Versus Versace. Following the departure of Anthony Vaccarello, who is slated for his debut as Saint Laurent creative director, the collection was created by Versus' in-house design team. Credits. The Fashionisto.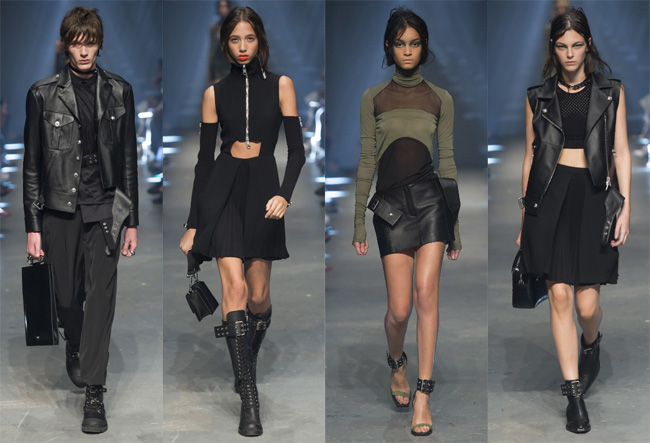 Versace for Women:
Under the primary lines of fashion, this fashion empire has been producing the diverse range of clothing both for all irrespective of the age and gender. Therefore company launches series of apparels and fashion products specifically for women. These include the one of a kind Versace jeans collection, formal dresses for women, jackets, shirts, jumpsuits, shoes, bags and jewellery. Girls, you are going to get a lot on your plate once you opt for Versace.
Versace for Men:
Versace has also specialised in producing the trendy and classic collection for men. From shoes to the shirts, everything is available on this label. Suits with their complete accessories, inner and outer wears, denim jeans, jackets, and leather belts, all of these are exclusively designed under a signature label of Versace.
Versace for Kids:
Collection for kids is full of inspiring colours and promising designs. Camo jeans with jackets for boys, lovely and alluring dresses for little girls, its kid's collection is even more diverse and full of variety. It provides the easy option for the star kids to flaunt their talent and beauty in an adorable way.
Versace Accessories:
Clothing is not the only fashion product it offers, but the major success of the company lies in its production of Versace accessories. Without which, Versace's signature style can be completed. This viewpoint led to the evolution of Versace accessories including watches, shoes, handbags, sunglasses, jewellery and other items.
Versace Timepiece:
It was Donatella's initiative to introduce a separate line of watches to the brand, which turned out to be a great success for the company. Now Versace watches seen as the standard quality timepieces in the market. The layout for these watches is unique, keeping the elegance as an essential element.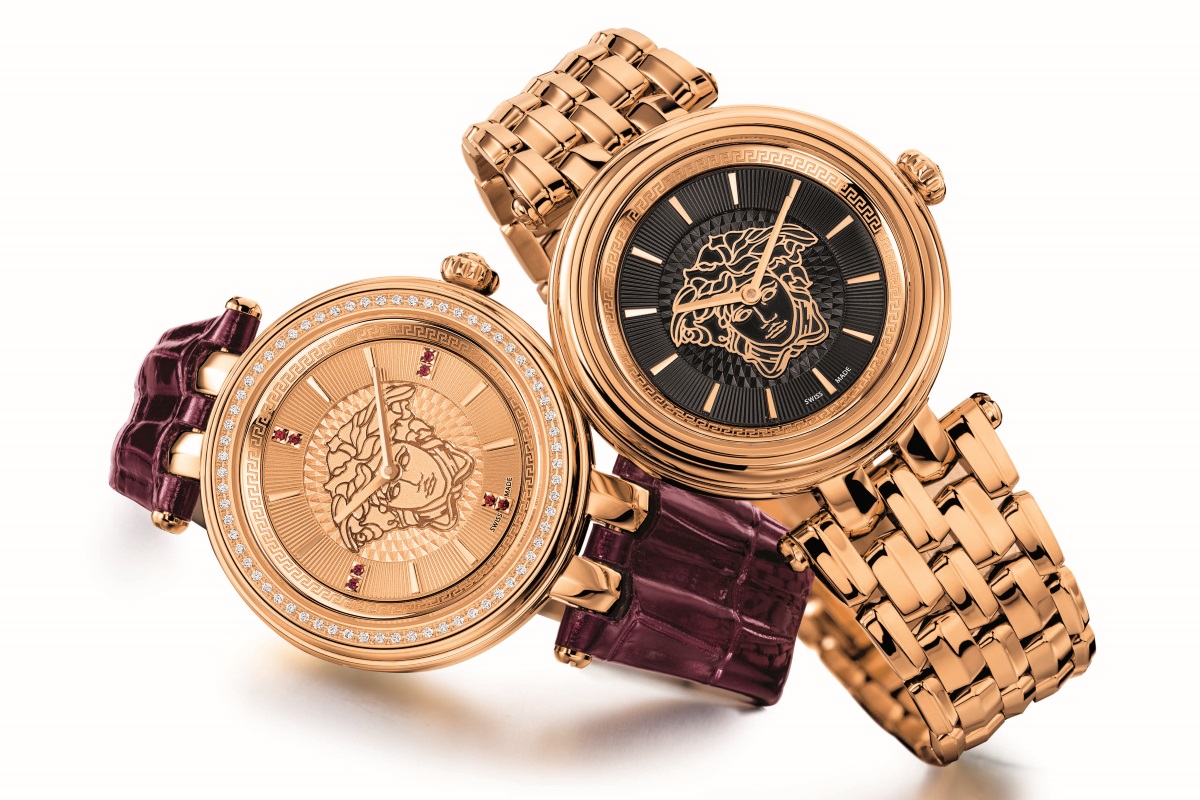 Versace Shoes:
Versace shoes are known worldwide for their elegant design. Moreover, the use of metal studs and brochures gives its shoes a regal outlook. These shoes are designed with the fusion of classic Greek style and touch of modernity into one. It is the reason that Versace shoes always take the spotlight. They are designed with the most expensive quality material available on the planet which gives them a rich and bold outlook.
Versace Handbags and Eyewear:
If you were wearing an exclusive Versus dress or outfit with the matching versus shoes, then nothing can complement it better than an original versus handbags. Keeping the same idea in mind, the company also launched the series of its custom handbags to meet the needs of the customers. Their collections of bags are extremely elegant with the finest leather used and embellished with the Medusa logo in metal or gold studs all over. Adding more glam to the game, Versace also offers a range of stunning eyewear; it's oversized sunglasses.
More by Versace:
Versace has mastered the art of producing fragrances. It has been creating hypnotic perfumes both for men and women. Other than perfumes it now offers luxurious tableware and furniture, because for them style has no limits and should be extended to every dimension. Under the creative leadership Donatella, the company is expected to grow more in the future.
See More As: