Latest Women Christmas Dresses Trends 2019-2020 Collection
The event of the year is just ahead of us. Whereas some of us were so busy buying gifts for us that we almost forgot to decide for our Christmas outfits for the Christmas Eve. Well, you still have a plenty of time to ponder and a whole world of options to choose from. Gal styles moreover have made things easier for you with the latest insight regarding the latest Xmas couture. Series of dresses are designed in accordance with the occasion, all in red, green, white, beige, purple, ivory and much more. Pick a design of your choice and carry it with style. Today we will discuss the Latest Women Christmas Dresses Trends!
Latest Women Christmas Dresses Trends 2019-2020 Collection
CHRISTMAS MAXI DRESSES:
Maxi are the must haves for the Xmas Eve celebrations. Most of the formal dinners and parties require wearing decent beautiful maxi on the occasion. Long maxi with flares, side cuts, and double layers are there for this Christmas. These maxis are designed in fine shimmery net with the tint of delicate embellishments around the necklines, or a central back motif.
CHRISTMAS COCKTAIL DRESS:
For all the young girls out there, cocktail dresses for Xmas parties are must try. These dresses are designed in refreshing colors, combinations and with decent cuts and patterns. The upper body of these dresses are heavily embellished using net work or sequin work. The lower portion is crafted using many flares. Colors for such clothes are usually shades of red and bold maroon.
CHRISTMAS GOWNS:
Long, heavy and flared gowns are the delight of this occasion and demanded by the women of all ages. Gowns in chiffon, net, georgette and net are crafted for this festive occasion, using embroideries in thread work, applique work, cut work and work of pearls. Gowns with uppers and capes are also available for the occasion. To shop these gowns you can visit: www.promgirl.com
CHRISTMAS BALERINA DRESS:
One of the Latest Women Christmas Dresses Trends is Ballerina dresses. They are the ultimate love of many girls and wearing them on your most favorite occasion of the year is even more delightful. Therefore, many of the popular clothing lines have launched Xmas ballerina dresses which are available in red, green, peach, pastel pink and many other shades with a tint of white around the borders. To make it fancier, the upper body is given the touch of sequin work.
CHRISTMAS SEQUIN DRESS TRENDS:
For late night Christmas parties and ultra-celebrations, sequin dresses are the best option to carry. Sequin gowns are one of the best trends in Latest Women Christmas Dresses Trends.These dresses are the second name of fancy. These are designed, in short, medium and full length. The designs include off-shoulder, halter neck, and V-neck styles. For sequin dresses there is no requirement for heavy embellishments, the dress itself is full of spark and shine that you need to lighten your Xmas evening.
CHRISTMAS SWEATER DRESS:
For more of a casual celebration and routine Xmas wardrobe, these sweaters will do great. The range covers the variety of crew neck sweaters with waist or medium length. The front and back of these sweaters are printed with Xmas related motifs or simply the stripes carrying white, red, maroon or green. These sweaters are not all style and fashion but are also warm and cozy to carry in extreme cold.
BODYCON DRESS TRENDS:
Bodycon outfit fashion is also very popular these days. You can also pick some sequin, lacework, embroidered bodycon dress for your Xmas parties.  Below I am posting some of the few designs. I hope you will definitely love them.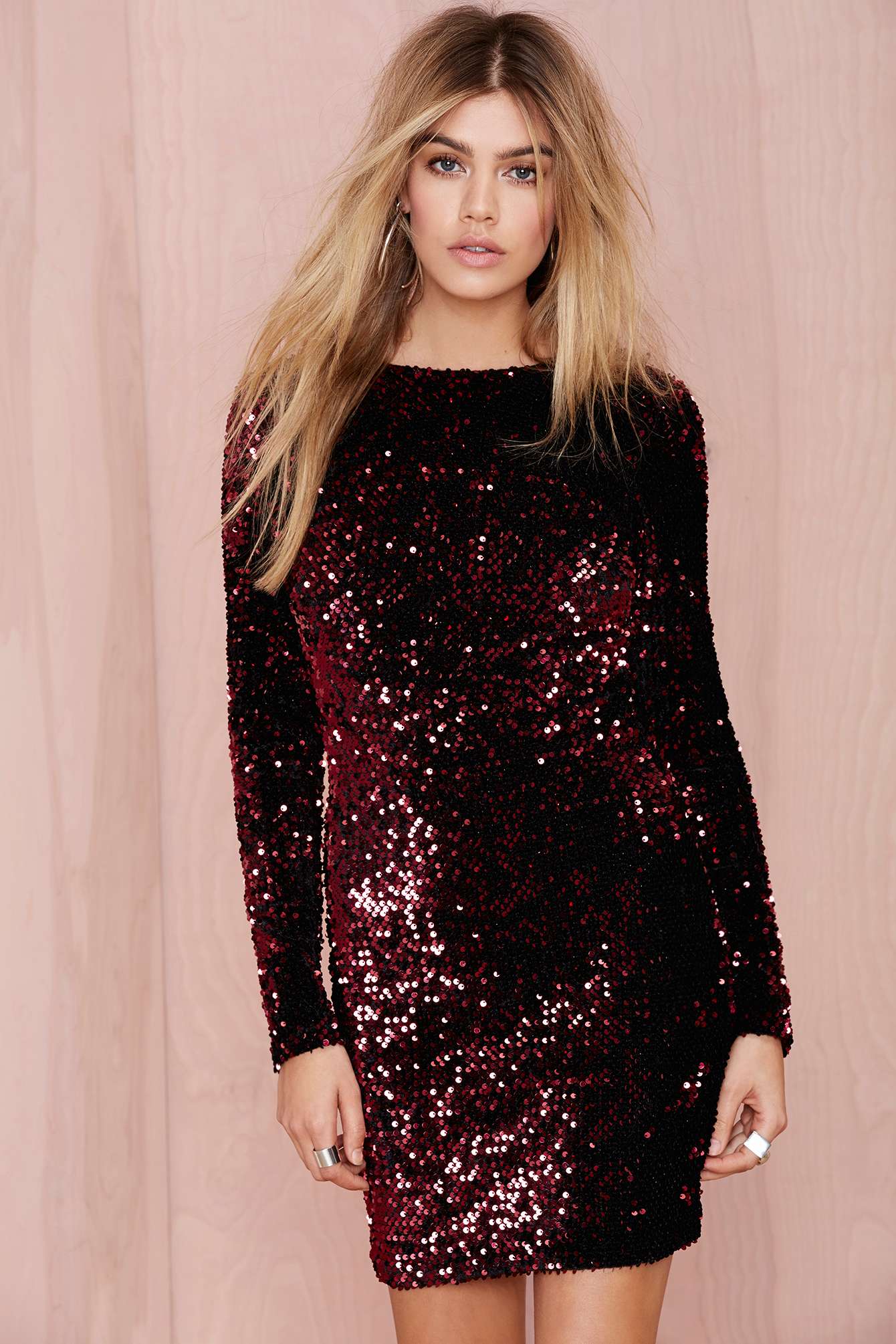 See More As: