Latest Indian Jacket Style Dresses & Gowns Anarkali Suits 2022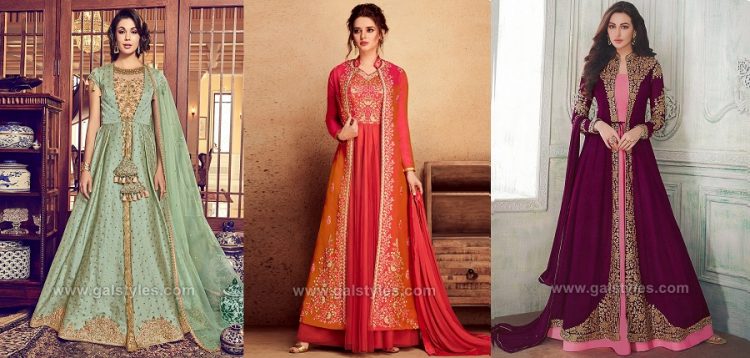 Hey, everyone! Hope you all are enjoying amazing life and experiencing new things. As we always keep on updating you with the latest fashion & trends, regarding clothing, makeup, accessories, hairstyles, shoes, etc. Both eastern and western fashion are discussed here. Previously we were discussing Indian and Pakistani that South Asian clothing so much, about Anarkali frocks, kurti styles & designs and some other. Now if we discuss another one of trends, i.e., jacket styles and gowns. Jacket styles were introduced by the actresses back in the late 19's, but it is still carried with elegance by designers. we will discuss the latest Indian jacket style dresses.
Designers are always introducing new styles of even old things; one can call them the new version also. So this jacket gown thing is also one of those creations by designers that are presented to us in a very beautiful manner. Upper jackets were used by the old time celebrities when they were used to wear it on Anarkali frocks and skirts.
Indian Jacket style dresses are so in trend these days, especially for wedding and family functions or events like eid, Diwali, etc. Long gowns, maxis and frocks with outer jackets look so trendy and stylish. All of the usual churidar pajamas are best suitable under these jacket style gowns.
Now there are different trends in the inner wear of these jacket dresses. It can be worn on a long shirt in the form of small jacket with full sleeves and churidar pajamas as a bottom wear; this stunning comparison looks amazing especially when wearing on the wedding.
The fabrics mostly used for such gown is jamawar or net while the shirt is of chiffon, velvet or jersey. But as designers have made every attempt to bring us top quality and top trendy clothes. So they have also introduced a modified version of these jackets, i.e., gowns that are knee long, floor length or even more. The necklines for these gowns are a mostly closed type, but this condition is not necessarily fulfilled for all of them another neckline may have cuts or round shape or else. These upper wears are designed with unique embroideries with contrast according to the lower wear.
New Indian Jacket Style Dresses & Gowns Anarkali Suits Collection for Women 2022-2023
The gowns used for weddings these days probably have lehenga for the bottom wear while a shirt below the gown for covering body By keeping the style alive after wearing gown above. Which have an open long cut from the bottom till specific length upward.
Usually, chiffon or velvet is used as a fabric for a gown where silk inner shirt lining gives way very stunning and fashionable look. Other than long gowns short jackets are mostly used on Anarkali dresses too, the pair gives amazingly as well as sexy traditional look.
Full Sleeve gowns and jackets are also introduced lately and have gained a big customer request. We are showing you some of the masterpieces here as we always ensure to provide you with most updated fashion, hope you will get help from this too.
This Black floral printed maxi gown looks so pretty. A shimmer black jacket is paired to spice up the entire look. It is best dress to wear for bridal shower functions.
This orange and sky blue combination long Indian jacket style anarkali is perfect for your day dream parties and gatherings. It is a semi formal attire designed so beautifuly.
Check out these jacket style designer suits and get select your favorite design to make a statement this season. We have published each design different from the other. Hope so you will love viewing them. Have a look at the image gallery posted below and get inspired by the versions of Indian Jacket Dresses!
The velvet Jacket with plain black anarkali looks so regal and graceful.
See More As:
Trendy Designer Bridal Dresses Collection