Umer Sayeed Bridal Dresses Collection at Telenor Bridal Couture Week
Wedding day is the most important day in one's life. It's the day when two people are going to jump in a complete different life. Forgetting their bachelor's life they are going to start a new era of their life. At this special day, it's the utmost desire of the bride to look in all amazing ways about which she has dream throughout her life. Bride is a center of attention of all the onlookers at her wedding day so other than just a desire it's a must situation for bride to look stunning, especially those aunties at our weddings whose duty is to notice bride from head to toe, the jewellery, the dress, shoes and makeover. These days' designers have provided with the amazingly stunning designs of bridal dresses. In the race of fashion, Umer Sayeed is a well-known name and known as the brightest star of Pakistan.
Telenor Bridal Couture Week 2014-2015 | Famous Pakistani Designer Wedding Collections
Telenor bridal couture week TBCW is a newly formed event sponsored by HUM SITAARAY and TELENOR Pakistan in which famous Pakistani designers such as Fahad Husayn, Maria. B, Hassan Shehyar Yasin HSY, Teena Durrani etc shwcased their latest collections. New patterns and styles are introduced in this event Umer Sayeed has always amazed everyone with his modern and luxurious designs of bridal collection. Umer Sayeed has always launched his formal and casual series. His collections are always worth watching when it comes to various shows in Pakistan that includes Telenor bridal couture week. This year different designers displayed their bridal dresses wore by top models of Pakistan in Telenor bridal couture week 2014-15.Interesting point is that Umer Sayeed was not included in the list of designers who were going to display their bridal collections in this Telenor bridal couture week 2014-15 but at third day of couture week when name of Umer Sayeed was announced as the next design displayed everyone was literally shocked for a while and seriously it was worth watching this collection. For men, the umer sayeed collection consists of very nice designs of sherwanis with shawls. Traditional Kurta Shalwar, Shalwar Kameez with delicate embroideries is also the part of this assortment.They are best for your formal wardrobes!

Umer Sayeed Latest Wedding Dresses Collection for Men & Women at Telenor Bridal Couture Week 2014-2015
The dresses were more beautiful than one's expectations. In fact, his designs set some new trends of bridal dresses. This assortment also contains fancy and embroidered party wear formal dresses in new innovative patterns and designs. They are best to wear at parties, casual meetings and get to gathers. Festive wear outfits including long pishwas, anarkalis and gowns are good to wear at festivals like Eid, Holi, Devali etc.. other than that occasional wear dresses are also designed especially for events and occasions.
These bridal dresses were dedicated to modern and highly sophisticated fashion lover ladies. These bridal dresses consisted of graceful designs. These bridal outfits were ornamented with superlative quality of embroidery. 'Sana Bucha', famous news anchor became showstopper with her amazing dress by Umer Sayeed. TBCW is considered as the world's top class fashion house where all the designers are provided with the opportunity to present their incredible ideas.
This collection was motivated by a mix of earlier and latest fashion trends of lehengas with both short and long kurtis paired with shararas and lehngas where the dupattas are wholly ended with heavy embroidery work. Get hurry and select your favorite occasional wedding dresses at season. Have a look on the image gallery posted below and get inspired by the latest designs!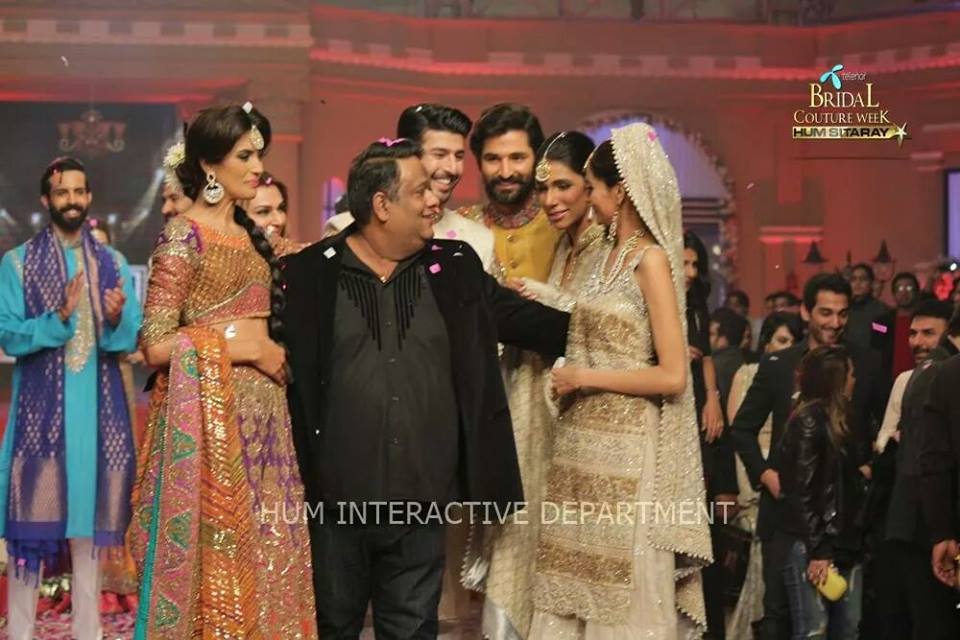 See More As:
Pantene Bridal couture Week 2014-2015 Popular Designers Collections
Maria B Bridal Dresses Collection 2015 for Wedding Brides
Beautiful Mehndi Dresses Collection by Top Designers 2015-2016