Zainab Chottani Summer Lawn Dresses Collection 2019 by LSM Textile Mills
Omg! Jackeline Fernandez who is famous these days as the hot 'chittiyan kallayian' star has given shot for the advertisement of Summer Collection by Zainab Chottani. Seems like double treat for eyes. Lakhanay Silk Mills (LSM) have launched this collection containing beautiful dresses. The lady is working from past few years and has always satisfied her customers by providing trendy, classy and high quality dresses. The clothing line has always provided its collections, seasonal as well as occasional and is always loved by the buyers. Meanwhile when everyone is saying goodbye to winter & welcoming hot summer/spring season, hot Jackeline is also greeting with the amazing designs for summer. So, enjoy the upcoming moments of summer with this amazing collection by Zainab Chottani.
Zainab Chottani, name of style and elegance is named among the best fashion designer of Pakistan. She has always brought something unique, elegant and new for her customers and her collections have no limits to the age as she targets every age group. Seasonal dresses, formal suits, wedding gowns, ready to wear casual outfits, all are designed by this designer and are revealed to you guys by the time.
Zainab Chottani Latest Summer Spring Lawn Dresses Collection 2015 for Women
One can estimate the popularity of the brand by the fact that it has not only opened its outlets nationwide but there are stores of Zainab Chottani in other regions of the world also. Online availability is also providing you an opportunity to get the latest designed outfits simply by ordering and enjoy the delivery at your doorstep. People love to buy Chottani's dresses increasing its demand day by day. This collection is another prove of its fascination.
This collection consists of fresh, new, unique and elegant designs that will fill your personality with elegance. 24 new dresses are introduced in this collection, all having stunning designs. The unstitched suits are available as three-piece having shirt piece, shalwar piece and dupatta. The prominent colors used in these dresses are peach, white, orange, blue, purple, green, off-white, orange and few others. The dresses are designed in a very smooth manner filling all the needs of your summer wardrobe Beautiful Jack was hired as model for displaying the outfits that you can see underneath. Furthermore you can also visit its online stores to get price info and delivery etc. Zainab chottani always come with some unique patterns and designs. She is a popular wedding bridal dress designer who layouts beautiful & elegant bridal gowns, frocks, lehengas and wedding sherwanis. You will see some trendiness vintage touch in her designs with the blend of modern vogue. Her Lawn collection is full of amazing prints with attractive hues & bold colors. Just have a look on the below posted image gallery and get inspired by the hottest designs of Summer!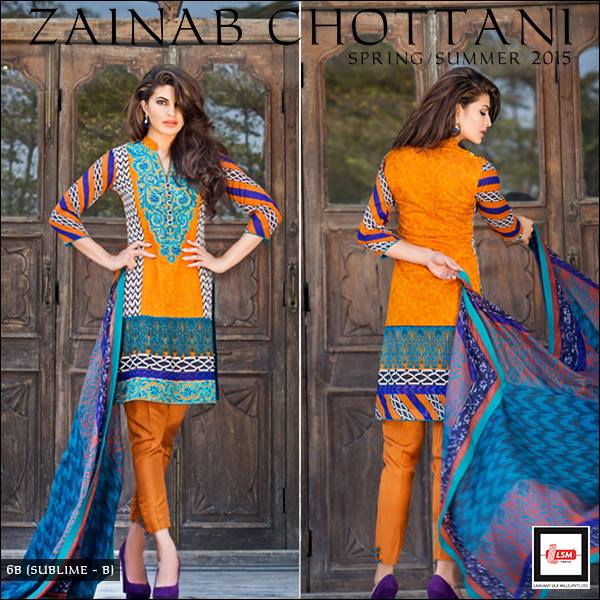 See More As:
Five Star Textile Mills Summer Lawn Digital Divine Collection 2015
Zeniya Lawn By Deepak Perwani Ready To Wear Dresses Summer Collection:
Latest Men Kurtas Prints, Designs & Trends for Summer Eid Season 2015