CHANEL Spring Summer Collection Haute Couture Fashion Show 2019
There might not be any person who hasn't heard of Chanel, a gorgeous name of fashion loved by everyone. Chanel has launched it "Chanel spring summer dresses collection 2015" which depicts that obsession with street style has reached fever pitch in Paris. This collection was a beautiful message for women all around the world. The brand carries a high repute among top fashion names of the world and has maintained its position as a top fashion house for decades. For the display of this  collection 'Karl Lagerfeld' erected hoardings of a typical Persian Street, Boulevard Chanel. No wonder this collection was a depiction of his exceptionally talented mind. The thing that made this fashion show even more interesting was that models came out in two's or three's chatting with each other as they were out for a casual Saturday stroll. It conveyed a message of independence, modernity and activeness of women in confident way. A variety of outfits was displayed that brought this fashion walk to life.
CHANEL Spring Summer Collection Haute Couture Fashion Show Ready To Wear Dresses 2015
This bold and beautiful line maintained and showed a perfect balance between femininity and masculinity. It felt like a heritage collection, depicting the beauty of modern women with class and elegance that refuse or negotiates to conform to stereotypes of our society. The flared trousers or micro minis, kicky box-pleated skirts, splashy painterly floral over silk, sometimes layered over black trousers and mosaic cocktail dresses made up of rectangular pewter plastic tables, arranged like bricks that echoed back to the architecture of the show's surroundings  left an impression of countless interpretations on viewers. The formal dresses of this collection are added glam with vibrant colors. These dresses are just according the choice of the fashionable professional women.
The gorgeous cuts and designs and the amazing color combinations take one reeling through late 60's to this date. The collection was found a sense of freedom, playfulness, and fearlessness to it. Not only the dresses but the fashion accessories by the brand was a mix of portraying the individuality and self-expression of women, Chanel bags and sweaters also completed the look amazingly. The shoes were inspiration of menswear, which went well with the whole practical theme of the show. Furthermore, show was reinforced with interesting and well-wondered banners through the entire street walk. Karl Lagerfeld has spent his entire life in supporting women rights in various ways, and this collection was also carrying the same purpose theme. Hope you will enjoy going through this elegant and  inspiring collection & you will love to pick something out for yourself too.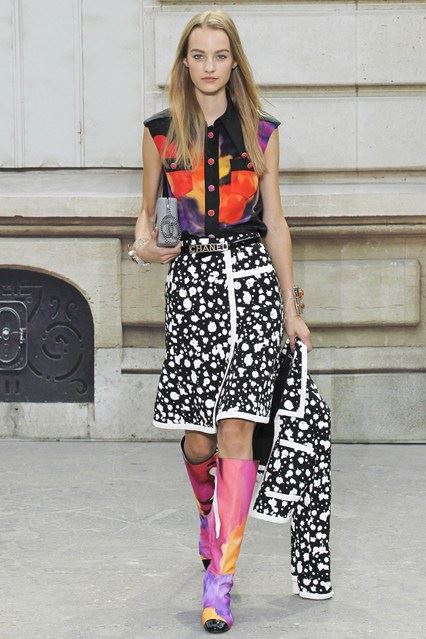 See More As:
Gucci Designer Handbags for Ladies- Latest designs 2015
Christian Dior spring summer Ready to Wear Dresses 2015
NIKE Women shoes, sneakers, boots, joggers collection for girls