10 Best Indian Celebrity Inspired Looks 2022- Ethnic Fashion
Indian Bollywood actresses are not just some mere celebrities in the eyes of their fans; they are considered as the emblem of style, fashion, and beauty. People adore them to the extent that they aspire their every single move, gesture, acting skills and fashion sense. Every other girl loves to adopt the style of her favorite Bollywood Diva. As we all are aware of the fact that there are only handful of actresses; who are ruling the Bollywood industry. And each one of them, have their unique individuality and unique fashion sense. Today we will discuss the top ten best Indian celebrity inspired looks.
Top 10 Amazing Indian Celebrity Inspired Looks 2022-23- Bollywood Ethnic Fashion
To inspire your style, here we are going to have a quick flash of the ten different Indian Celebrity Inspired Looks 2022-2023 of the Bollywood's most favorite celebrities.
Priyanka Chopra Chic Saree Look
The style icon of the Indian Bollywood industry, Priyanka Chopra gave this tissue saree an ultimate life with her charms. Saree is always a great option to seek for traditional events and those crafted in tissue with embellishments are indeed the best ones. The saree blouse is also very decent and beautiful.
Kareena Kapoor in Sabyasachi Lehenga
Her Sabyasachi lehenga did make everyone go crazy. What made it more appealing was the makeover Kareena was carrying, her jewelry, Kajal and bangles, everything was substantially complementing the dress. It is full of traditional embellishments which give it magnified beauty. The hot mummy is showing her bump with pride and smile. She looks so beautiful in this well-embellished lehenga set.
Image: indianexpress.com
Deepika Padukone Crop Top Fashion
Deepika the Hottie of the Bollywood industry, her crop top has spurred the magic everywhere. She, in fact, set the trend for the lovely crop tops and skirt which are seen, worn by every other girl these days. One thing that will make this outfit more appealing is the necklace that is complementing with the dress.
Sonam Kapoor Floral Lehenga
Sonam Kapoor's floral lehenga perhaps has no parallel at all. The Disney princess "Miley" or we can say Sonam has nailed the outlook of the dress with her cute and gorgeous personality. Her floral lehenga-inspired look can be tried in a variety of ways, either with no or full sleeves, heavy traditional jewelry, and other accessories.
Alia Bhatt Tulip Shalwar Suit
If you want to have that fascinating, tulip shalwar and glasswork jacket outlook inspired by Bollywood's youngest Diva, Alia Bhatt. Then this Tulip shalwar suit is a must to try. Simplicity will be taken to a whole new level with this pretty dress. It tastes like a pure Punjabi and ethnic sense.
Sonakshi Sinha Palazzo Look
Sinha's Palazzo has taken the fashion off to the high road. This pretty palazzo by Ritu Kumar complements the Resham kurta adorned with beautiful embellishments. It's a perfect option for all kinds of traditional festivals.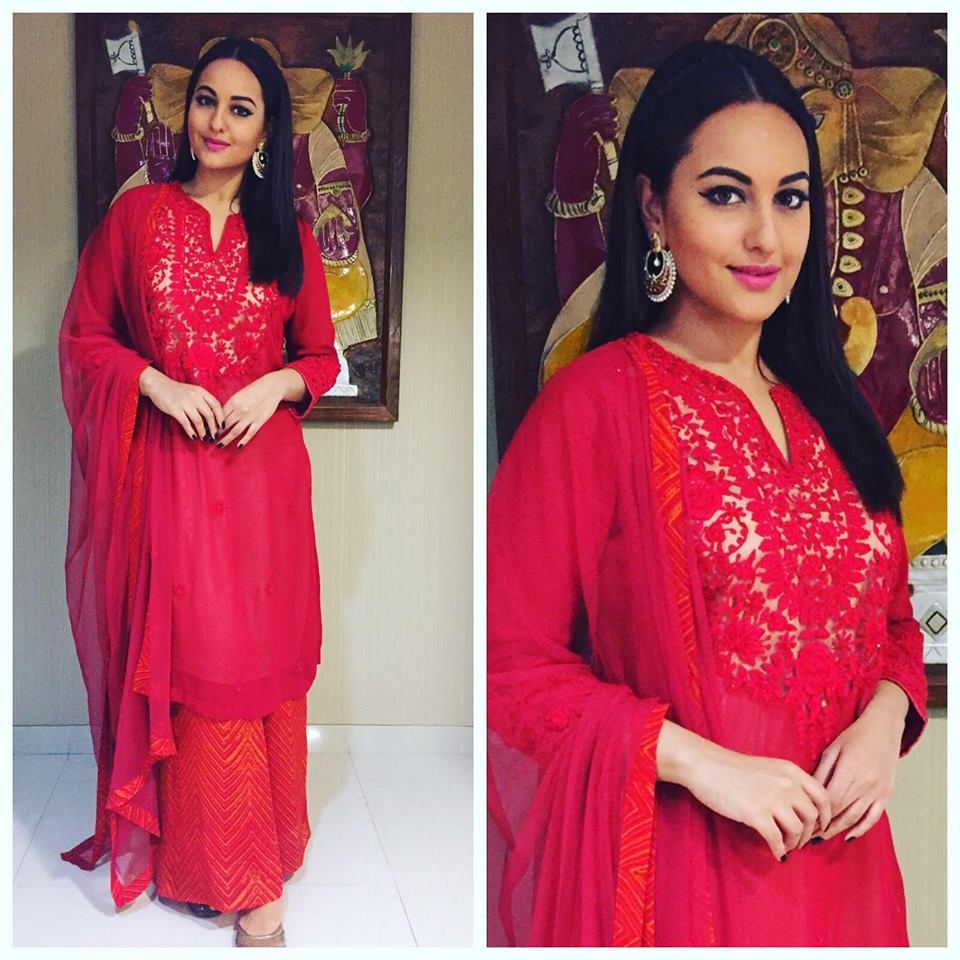 Karishma Kapoor Dhoti Look
The great Dhoti outlook of Karishma is perfect to carry traditional Punjabi style. It is most suitable to wear on any of the festive celebrations including wedding events and Eid occasion.
Bipasha Basu Sharara Look
Sharara is one of the most amazing gifts that eastern Couture has brought down to the current era. And if you are also a Sharara lover than Bipasha Sharara outlook is the best you can have.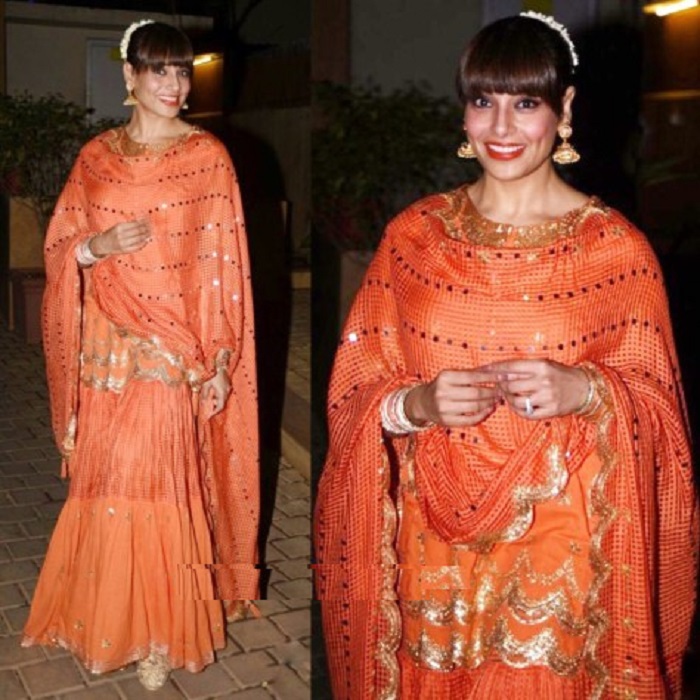 Shraddha Kapoor Bling Saree Blouse
Shraddha's lovely golden saree with the tint of silver bling in its blouse is one absolute masterpiece. If you considering sarees to wear on any upcoming event, then this one is a must option to opt.
Anushka Sharma Mughlai Andaaz
For wedding apparels, most of the brides love to have that royal and regal touch in their dresses, even for other traditional formal events, royal outlook is one of a preferable looks out there hence Anushka's Mughlai Andaaz with kussa is a perfect option available.
 
I hope you will love all of the Indian celebrity inspired looks posted here above. Keep visiting us. Have a nice day and keep smiling.
See More As: