Christmas Holiday Nail Art Design Tutorials with Steps
Hello girls, hope you are living well. As Christmas is just a few months far. People have started their preparations for this appealing religious event. Christmas comes with great charm and happiness every year. We decorate our houses, make different types of meals, eat sweets, buy gifts and spread the happiness all around by wishing everyone "Merry Christmas". Women are more keen towards their dressing on this main event. They want to look fabulous and standout among the crowd. After selecting the appropriate dress, matching the shoes and accessories all you want is a perfect holiday nail art for your Christmas days. We are here to help you ladies in this regard; we are sharing some awesome nail art designs for your Christmas holidays. These designs will inspire you and make your Christmas day full of colors.
Christmas Holidays Amazing Nail Art Designs- Tutorials with detailed Steps & Pictures
Nail art has been popular among females for years and comes with more variety every day. Today its continuous popularity has increased so much and loved by women. The beauty of your dress will be colorless without these amazing nail arts. It has become a part of everyday fashion. Today I'm going to share a few amazing nail-art tutorials with detailed steps for your Christmas holidays that you can easily do by yourself at home.
Stained Glass Nail Art:
One of the famous art is the glass nail art. If you're in a hurry and do not have a lot of time, then this type is for you. This art is easy and quick to create. Glass nail-arts always look unique. You need to do two things; mark a glass line then paint in the boxes with a color shades of your favorite choice as shown in pictures.
For a step by step guide, see the following pictures.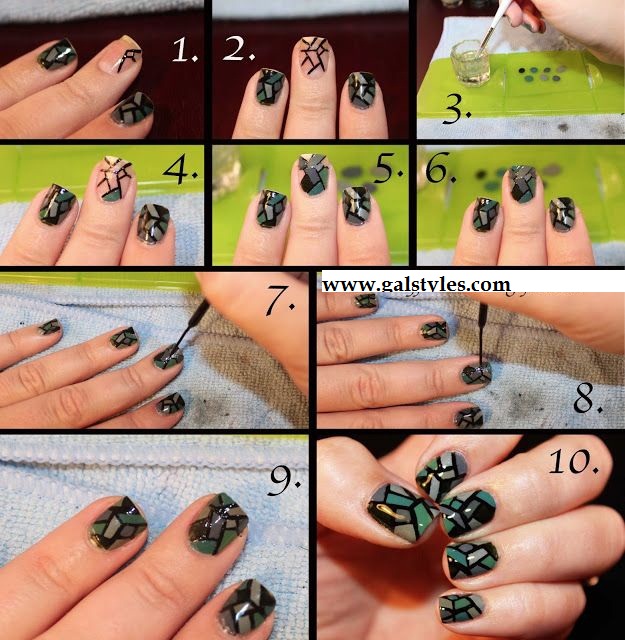 Newspaper Nail-Art:
This nail art is very attractive to every girl. It may seem difficult, but it is very easy to do. So are you ready for this attracting and charming nail art for your holiday? I can assure you that your holiday will be bright and colorful by creating these awesome nail art designs. Let's grab some necessary things like a water tub or a cup, rubbing alcohol, base color, newspaper and topcoat color or shiner, and then follow these steps.
Tutorial:
Wash your hand first.
Apply a base nail color like light pink, light brown or white whatever you would like to apply to your nails. But take a soft color so print of newspaper can show off.
Now take a small jar or a tub, pour water and rubbing alcohol in it and mix it with a stick.
After previous steps, put you each finger one by one in a tub of water for six to seven seconds.
Then take a newspaper, press it slightly on every nail, peel it off carefully as sometimes newspaper attached to it. You will see the beautiful print of the newspaper on your nails.
Repeat the other hand and enjoy your fantastic holiday.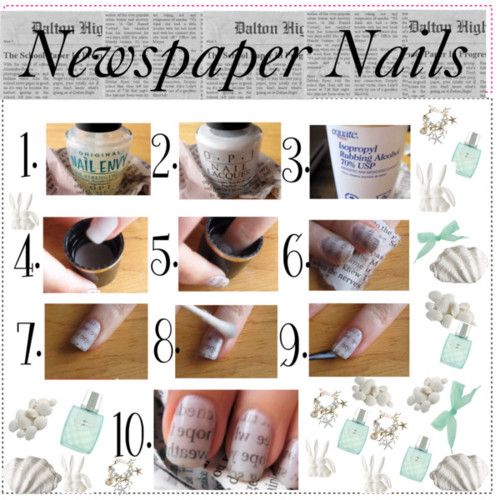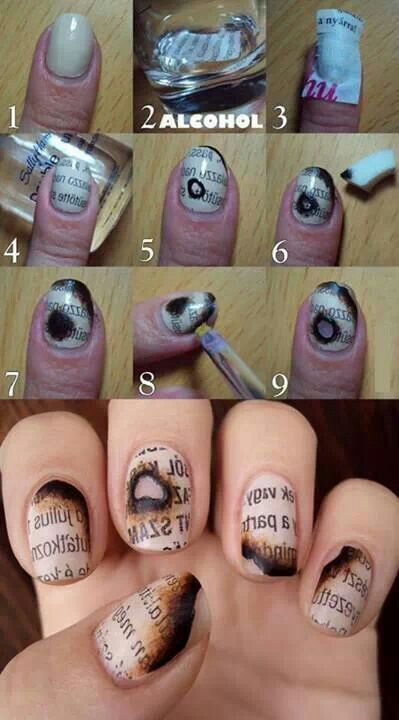 Water Marbling Nail-Art:
Do you want a classic nail art for the party tonight? All dear stylish girls, you're going to look amazing on your party with these designs & tutorials that I'm going to mention. Water marbling nail arts gives attracting look at parties. Some girls find this art difficult and it's true, this can be challenging but trust me, you will find it very simple when I will tell you the super secrets of making these nail arts. Let's start learning it, grab a tub of water, and different nail colors, and stick.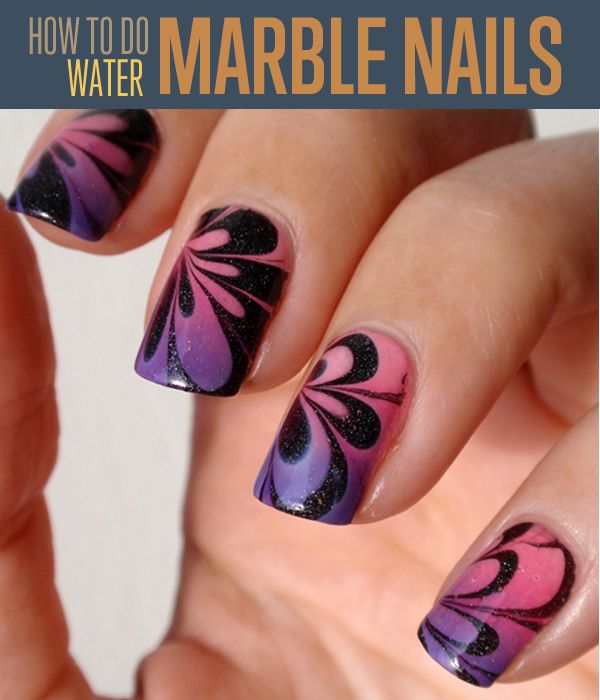 Tutorial:
Wash your hands with firm soap.
Apply a base color on your nails.
Use Vaseline or oil, spreading it on the sides of your nails.
Grab a tub of water, add different colors to it. Use branded nail colors like OPI, NARS, Super glow, Revlon, Loreal.
Paris, China glaze and red carpet manicure, so that it can easily stick to your nails.
Now spread the colors and make a design on it by using a toothpick or a stick.
Dip you nails in it for 10 seconds until it dries off.
Now apply a shiner on it and remove the nail paint from the side of your nails.
That's it done, Repeat on each nail.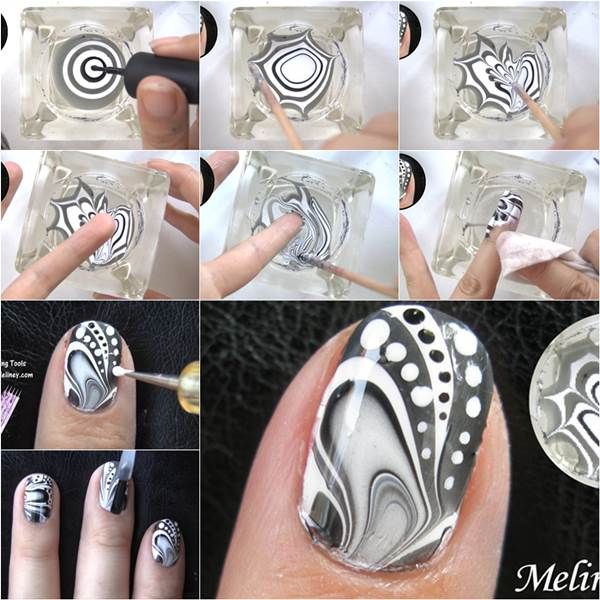 Flower or Floral Nail-Arts:
What a beautiful holiday it is? What a beautiful sunny day and dancing flowers in the garden. It's an amazing feeling when we look at flowers, making the world more beautiful and colorful. When women wear clothes, that have flower prints they always look attractive and charming. Similarly, flower nail arts always look good.
They are not even difficult to learn.
You just have the need to apply the base color whatever color you want to apply, and then make flowers on it as shown in the following pictures.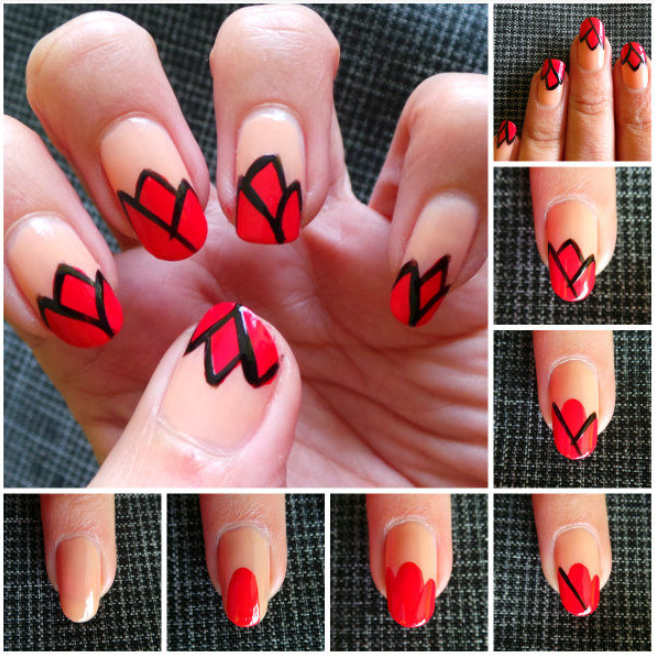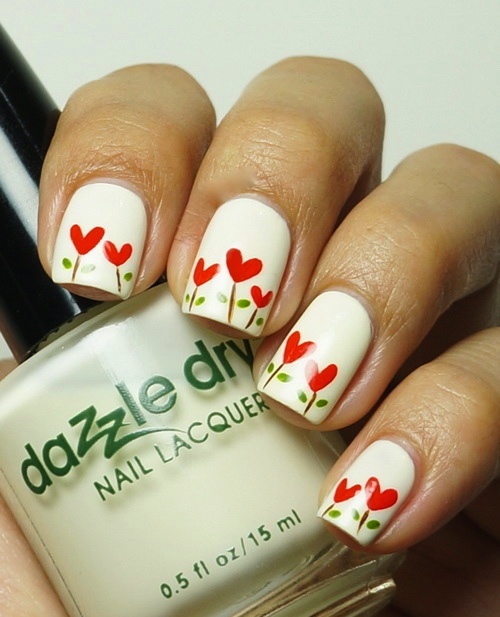 Lines and Polka Dot Nail Arts:
This is really the easiest one. You just need to grab a color and a toothpick. First apply a base color on your nails then make lines or polka dots on it. If you have a young daughter or sister, I would suggest polka dot nail art for young girls. It looks cute and adorable. See the following pictures, as mentioned below.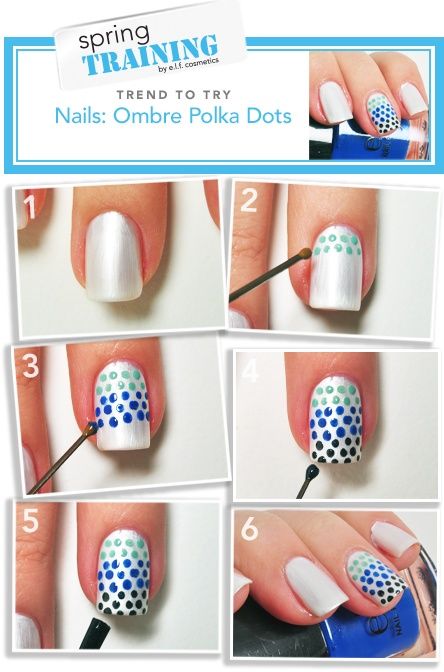 Other Nails Art:
Creating art on your nails is the most desired task of some women. They search more and more to follow new patterns and designs. So here we are posting some other styles. The world of nail-art has not ended; there are still many designs and patterns. I have mentioned the step by step designs in the following pictures. I hope you will love them and will enjoy your holidays by trying these perfect tutorials and designs.
Stay updated with our blog to follow more fashion updates regarding beauty, health, clothing, footwear and accessories. Wishing you a happy and glamorous Christmas holidays!
Water-Melon: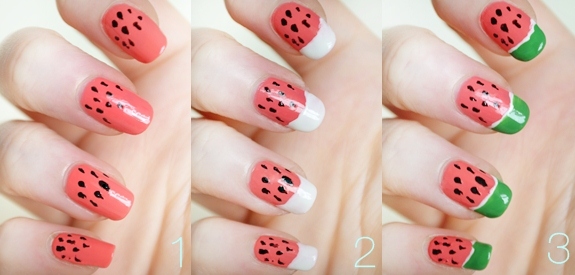 Heart-Shape: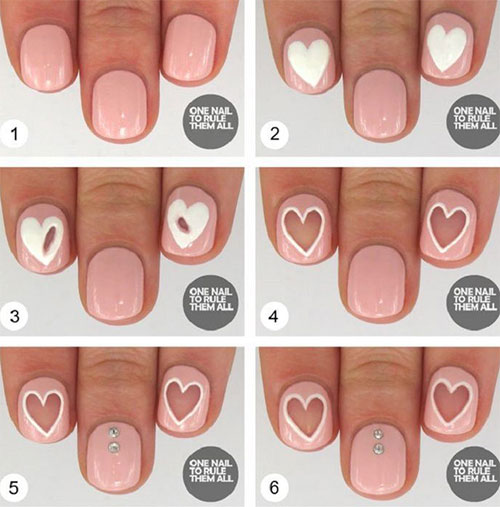 Butterfly: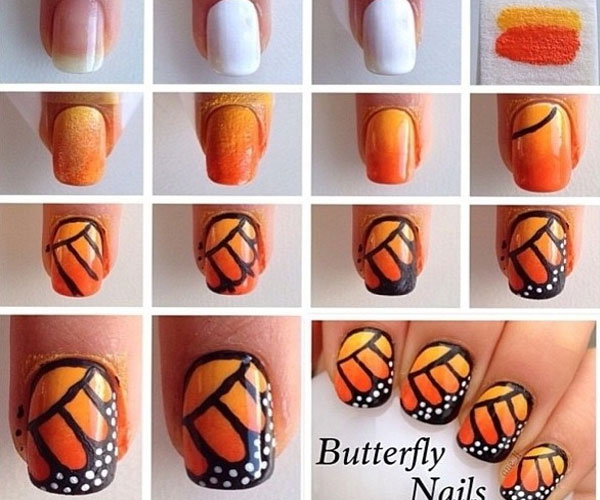 Spider-man: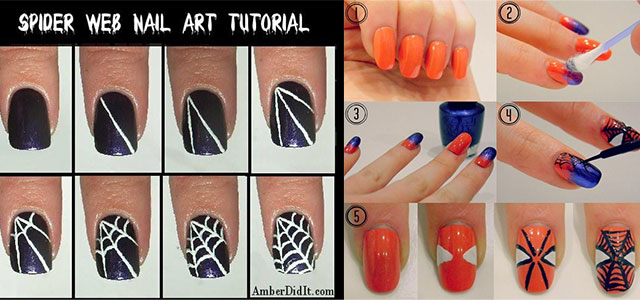 Scary Skull Design Halloween Arts: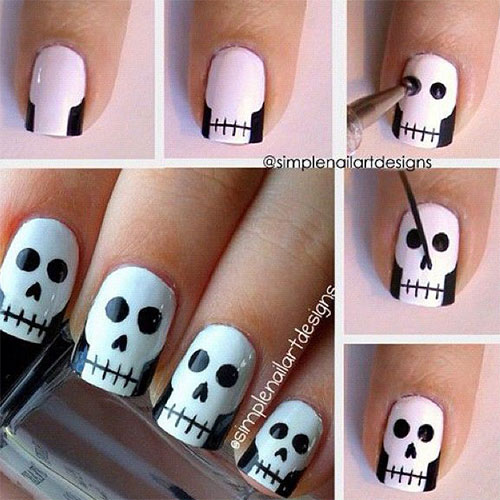 Special Christmas Eve Design: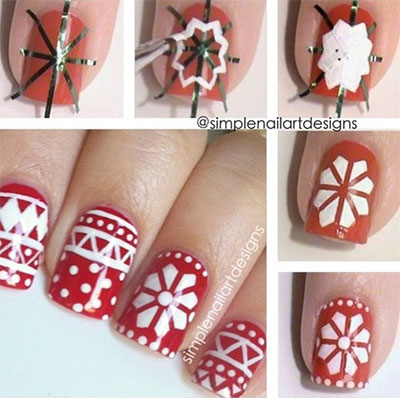 See More As: